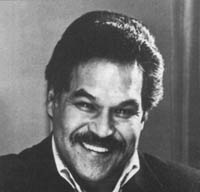 Hemispheric American
LUIS VALDEZ
MONDAY, SEPTEMBER 19, 1994
During the grape strike of 1965 Luis Valdez founded the theatrical troupe El Teatro Campesino on the strike lines in the fields of California. His "actos" or skit-playlets dramatizing the cause of the farm workers and urban Chicanos grew and garnered international acclaim including an off-Broadway Oble Award in 1969 and the L.A. Drama Critics Award in 1969 and 1972.

In 1977 Mr. Valdez wrote Zoot Suit, which won the Los Angeles Drama Logue Award. With Zoot Suit Valdez became the first Chicano playwright to be presented on Broadway. The motion picture version he wrote and directed won a Golden Globe nomination for best musical picture in 1981.

Valdez wrote and directed the movie La Bamba (1987), one of the most successful movies of the 1980s. Bandido, Mr. Valdez's new play, premiered on June 9, 1994. His other plays include Corridos (1982) and I Don't Have to Show You No Stinking Badges (1986). He is currently preparing the movies Frida Kahlo: The Brush of Anguish and The Cesar Chavez Story.

The government of Mexico recently awarded Luis Valdez the Aztec Eagle, the highest honor bestowed upon a foreigner in recognition of humanitarian and civic contributions.

The Athenaeum is pleased to invite you to its first speaker dinner of the 1994-1995 year featuring this important and celebrated American playwright, who will speak in McKenna Auditorium at 6:45 p.m.