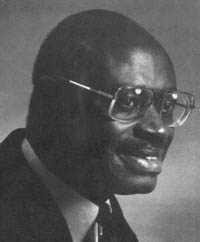 The Old Ship of Zion: African-American Gospel Music
HORACE CLARENCE BOYER
TUESDAY, SEPTEMBER 20, 1994
As a professional gospel singer and professor of music at the University of Massachusetts at Amherst, Horace Clarence Boyer has traced the historical and musical evolution of gospel music. From its origins as slave song, field hollers, and Negro spirituals that sustained and perpetuated the culture of enslaved, rural African-Americans through its 20th-century representation of new religious, social, and political freedoms, gospel has been a powerful and meaningful music.

The highly regarded Boyer has appeared and recorded with fellow gospel artists Mahalia Jackson, Clara Ward, Dorothy Love Coates, and James Cleveland. As a soloist and musical director, he has overseen the musicals Purlie (1970), Do Lord, Remember Me (1977), and James Baldwin's Blues for Mr. Charlie (1964).

Boyer's musical arrangements can be found in hymnals for the Episcopal Church and the African American Catholic Church. Journals such as The Music Educators Journal, Black Perspective in Music, and the Black Music Research Journal have published over 40 of his articles on African-American vocal music.

Boyer holds a Ph.D. in music theory from the Eastman School of Music. He is the recipient of a Ford Foundation fellowship, sits on the editorial advisory board of the journal Rejoice, and has served as curator for the Smithsonian's division of musical instruments.

Watch and listen as Horace Clarence Boyer provides a guided tour through the development of gospel music, tracing the effects of history on music and religion.