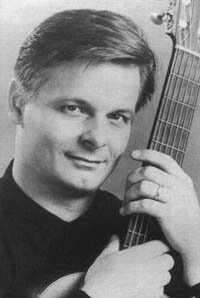 Classical and Jazz Guitar: A Musical Journey Through Three Centuries of Guitar Music
KENTON YOUNGSTROM
THURSDAY, SEPTEMBER 22, 1994
Award winning guitarist Kenton Youngstrom returns to the Athenaeum following an enormously successful concert last spring. Youngstrom's program will incorporate classical chamber music pieces by Bach, Tarrega, and Sor as well as jazz standards featuring the truly American idiom of improvisational music.

While earning a B.A. and M.A. at the University of Southern California, Youngstrom studied guitar with James Smith and Lee Ritenour, participating in master classes with artists such as Pepe and Angel Romero, Gabor Rejto, Manuel Barrueco, and Michael Lorimer. Youngstrom has performed with the Redlands and Downey Symphonies as well as the Glendale and Pasadena Chamber Orchestras. Youngstrom's group, the Falla Trio, was honored with Stereo Review's Record of the Year award.

Look for his jazz quartet's new CD, or you may find him at the Ballet Folklórico Mexicapan, which he has directed for several years. This performance is the first in the Ed Stotsenberg Chamber Music Series, made possible by a generous gift from Mr. Ed Stotsenberg, a friend of Claremont McKenna College.