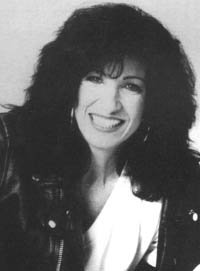 Hot, Sexy, and Safer
SUZI LANDOLPHI
TUESDAY, SEPTEMBER 27, 1994
Through her extensive work with the AIDS Action Committee and her experience in theater and television, Suzi Landolphi has developed a program designed to educate and entertain. And entertain she does: The Los Angeles Times called her "Dr. Ruth stuck on fast forward." With the risk of AIDS and other sexually transmitted diseases higher for college students than for other segments of society, Landolphi's message is crucial.

Landolphi graduated with honors from Middlebury College to become a national award-winning video and film producer/ director. Her volunteer service with the struggling Boston AIDS organization, the AIDS Action Committee, provided her with the firsthand experience and motivation to form her own company: Hot, Sexy, and Safer. "Condomania," her new project, is a new concept in retailing condoms and safer-sex materials.

Suzi Landolphi has hosted and emceed benefit projects such as the First National Children with HIV/AIDS Day and the Los Angeles Minority AIDS Project. Her numerous television and speaking engagements have earned her nominations for the Harry Chapin Humanitarian Award and the National Association of Campus Activities Lecturer of the Year Award.

Join Suzi Landolphi at the Marian Miner Cook Athenaeum for a funny yet serious look at safer sex. Dinner reservations are for CMC only, however, no reservations are needed to attend the presentation, which begins at 6:45 p.m.