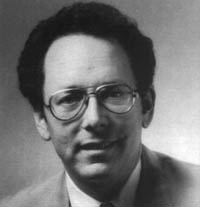 Fascism in Wartime Japan: Toward the Revival of a Concept
ANDREW GORDON
MONDAY, OCTOBER 3, 1994
The Keck Center for International and Strategic Studies and the Gould Center for Humanistic Studies are pleased to cosponsor a public lecture by Dr. Andrew Gordon, author of
Postwar Japan as History
(1993),
Labor and Imperial Democracy in Prewar Japan
(1991), and
The Evolution of Labor Relations in Japan: Heavy Industry, 1853-1955
(1985).
Gordon received both an A.B. and a Ph.D. from Harvard University. Since 1973, he has lived, taught, and conducted research in Japan for a total of eight years. As professor of history at Duke University, Gordon concentrates his teachings and research interests in the fields of Japanese modern history and the comparative studies of labor. He is currently engaged in a study of labor-management relations in a Japanese steel mill between the end of World War II and the present, and he is preparing a book titled Contest for the Workplace: Workers and Managers in a Japanese Steelmill.