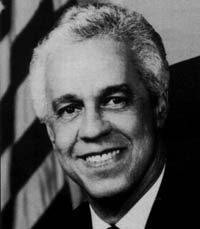 Electoral Politics in Virginia
L. DOUGLAS WILDER
TUESDAY, OCTOBER 4, 1994 4:00 p.m.
McKenna Auditorium
Governor L. Douglas Wilder has led a distinguished career as a determined leader and effective public servant. He graduated from Virginia Union College in 1951 with a degree in chemistry. Soon after, he was drafted into the Army where he was awarded the Bronze Star. Upon graduation from Howard University Law School, he opened a private practice in Richmond.

In 1969 he became the first African-American elected to the Virginia legislature since the days of Reconstruction. In 1985 he became lieutenant governor and in 1990 was sworn in as the first African-American governor in U.S. history. During his administration, Governor Wilder was noted for his sound fiscal policies, making Virginia the best financially managed state in the country, according to Financial World magazine.

A Democrat who had been running as an independent, Wilder recently withdrew from the U.S. Senate race in Virginia, potentially giving a substantial boost to incumbent Democrat Charles S. Robb's efforts to keep his Senate seat in his race against Republican Oliver L. North.

Governor Wilder's address, sponsored by Res Publica of Claremont McKenna College, will begin at 4:00 p.m. in McKenna Auditorium and is open to all.