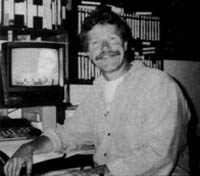 Bound by the Wind
DAVID BROWN '69
TUESDAY, OCTOBER 11, 1994
In 1995 the Non-Proliferation Treaty of 1968 expires, leaving the world of nuclear politics in a volatile state. When North Korea recently dropped out of the nonproliferation game to pursue an unfettered nuclear weapons program, calls for nuclear weapons production and testing bans were pronounced. As Japan announces its desire to develop its own nuclear weapons program, the United States vacillates from nuclear testing suspension with France and the former Soviet Union to preparations to resume its own testing.

David L. Brown, who grew up downwind from the Rocky Flats Nuclear Weapons Plant in Denver, knows what radiation emissions from such sites can do. In the documentary Bound by the Wind (1993), Brown investigates the global impact of nuclear weapons testing and the 40-year international campaign to achieve a comprehensive test ban.

Bound by the Wind, winner of the CINE Golden Eagle and Golden Gate Award for the best environmental documentary, is structured around the dramatic stories of people from the United States, the former Soviet Union, and the South Pacific who are directly affected by radiation from nuclear testing. The film interweaves their stories of fallout, birth defects, cancer, and deception with the relevant historical events, archival footage, and analysis from experts such as the late Linus Pauling and government officials like Pat Schroeder.

An independent filmmaker and CMC alumnus, Brown has been directing and producing current affairs documentaries for more than twenty years. His documentaries A Question of Power (1986), Free Zone: Democracy Meets the Nuclear Threat (1989), and Strategies for Survival have received over 35 international awards and have been broadcast both internationally and by PBS. Bound by the Wind is the second installment in a documentary series at the Athenaeum. Please join us for a viewing of the film, followed by discussion with its producer.