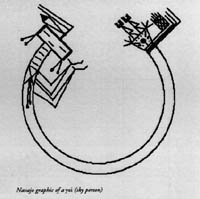 The Navajo "Code Talkers" of World War II
PAUL APODACA
WEDNESDAY, OCTOBER 12, 1994
Because the Navajo language was unknown outside the continental United States, the U.S. Armed Forces used Navajo "code talkers" to send messages during World War II. The notable contributions these radiomen made to the victory at Iwo Jima and during other battles will be addressed in Paul Apodaca's lecture, which is part of the continuing Athenaeum series Reflections on World War II: 50 Years after D-Day.

For 15 years Apodaca has worked with Orange County's largest museum, the Bowers Museum, as an artist and curator. Currently a professor at Chapman University, he has lectured and taught at UCLA, Cal State Fullerton, and the University of California at Irvine. Apodaca is also a highly respected consultant and contributor to the Smithsonian, the California Arts Council, the California State Indian Museum, and the California Council for the Humanities. Apodaca's literary credits include editing News from Native California (1988), writing for The MacMillan Dictionary of Art and The American Encyclopedia of Ideas, as well as illustrating Bowers Museum publications including Religion, Art and Iconography: Man and Cosmos in Prehispanic Mesoamerica (1982).

Paul Apodaca wrote and performed the musical score for the Oscar-winning feature documentary Broken Rainbow (1986), which helped to stop a planned government relocation of 12,000 Navajo from their reservation in Arizona. His list of honors and awards also includes the Orange County Human Rights Award and the Smithsonian Institution Museum Professional Award.