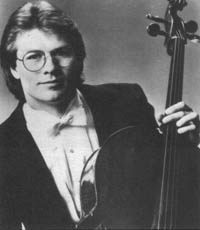 Suites No. 1 in G Major and No. 3 in C Major
by Johann Sebastian Bach
DANIEL GAISFORD, cello
THURSDAY, NOVEMBER 3, 1994
In just a few seasons 29-year-old Daniel Gaisford has emerged as one of the most talked-about young cellists in North America, having earned high regard based on a rare combination of dazzling technique, charismatic performing style, and fierce dedication to the highest artistic standards.

Highlights of Gaisford's impressive career include debuts with the Saint Louis, Utah, and Toronto symphony orchestras. Having studied with the Young Artists' Program at the University of Southern California and at the Juilliard School in New York City, Gaisford has given solo performances in Town Hall, Merkin Concert Hall, and Lincoln Center for the Performing Arts' Alice Tully Hall. Looking ahead to 1995, Gaisford will make his debut with the Seattle Symphony, under the baton of the eminent British conductor, Mark Elder, followed by performances with orchestras throughout the country, including the North Carolina Symphony Orchestra, the New Mexico Symphony Orchestra, and the Hartford Symphony Orchestra. His recital engagements include a prestigious debut at the John F. Kennedy Center for the Performing Arts in Washington, DC.

Gaisford brings to the Athenaeum two unaccompanied suites by Johann Sebastian Bach: No. 1 in G Major (1720) and No. 3 in C Major (1720). He performs in partnership with his rare 1706 Goffriller cello, one of the Venetian masters' finest instruments- a cello equivalent to a Stradivari or Guarneri.

This evening's program is the second of four concerts in the Stotsenberg Chamber Music Series, funded by a gift from the Mary Pickford Foundation.