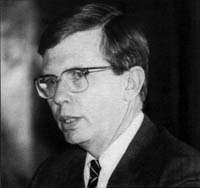 Fascism in Asia
KENNETH PYLE
THURSDAY, OCTOBER 27, 1994
The Keck Center for International and Strategic Studies is pleased to present a public lecture by Kenneth Pyle, professor of history and Asian studies and chairman of the Japanese studies program at the University of Washington. From 1978 to 1988 Pyle was director of the Henry M. Jackson School of International Studies. He is president of the National Bureau of Asian Research.

Pyle is the author or editor of numerous books on modern Japan and its international relations, including The New Generation of Meiji Japan (1969), The Making of Modern Japan (1978), The Trade Crisis: How Will Japan Respond? (1987), and The Japanese Question: Power and Purpose in a New Era (1992). He is the author of a lengthy report titled The Future of Japanese Nationalism for the U.S. Department of State. His recent works have included studies of the foreign policy of Prime Minister Nakasone and Japanese government planning for the 21st century
.
Pyle received a bachelor of arts degree magna cum laude from Harvard and his Ph.D. from Johns Hopkins University where he was the Walter Hines Page fellow in international relations. He held a Ford Foundation fellowship at the Intern-University Center for Japanese Studies in Tokyo. He has been a visiting faculty member at Stanford and at Yale.

Pyle was the founding editor of the Journal of Japanese Studies. He is a member of the board of governors of the Henry M. Jackson Foundation and the Maureen and Mike Mansfield Foundation. In 1992 he was appointed by the director of the U.S. Information Agency to be the chairman of the Japan-U.S. Friendship Commission, a Federal Agency that administers a trust fund, established by Congress at the time of the reversion of Okinawa, to support Japanese studies in the United States and American studies in Japan. He is a member of the council on Foreign Relations.