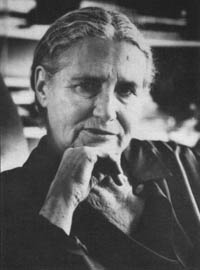 Readings From Her Work
DORIS LESSING
MONDAY, OCTOBER 31, 1994 4:00 p.m.
How to account for the fact that all my life I've been the child who says the Emperor is naked, while my brother never, not once, doubted or criticized authority?

Mind you, a talent for seeing the Emperor 's nakedness can mean his other qualities are not noticed

So Doris Lessing begins her new autobiography with the kind of trenchant and ironic inquiry into human character that has made her one of the most powerful and influential novelists of the twentieth century.

Lessing, born in Persia of British parents and raised in Rhodesia (now Zimbabwe), fled her adopted homeland in 1949, an exile opposed to white minority rule. She took with her the manuscript of The Grass is Singing, a disturbing story of racial strife in modern colonial South Africa. In 1950 this first novel was published in London where Lessing has lived ever since. She has published nearly thirty books: fiction, essays, journalism, poetry, and libretti. Her most acclaimed novels include A Proper Marriage (1954), Briefing for a Descent into Hell (1971), Shikasta (1979)- the first work in the "Canopus in Argus: Archives" series- and The Good Terrorist (1986). She is best known for her novel The Golden Notebook (1962), groundbreaking for its technical innovation, psychological depth, and sociological sweep. The work has had a profound influence on a generation of women. Lessing has written, "this novel was not a trumpet for Women's Liberation. It described many female emotions of aggression, hostility, resentment. It put them into print. Apparently what many women were thinking, feeling, experiencing, came as a great surprise."

The recipient of numerous honors, Lessing was named Distinguished Fellow in Literature in the School of English and American Studies by the University of East Anglia. Her latest books include the novel, The Fifth Child (1988), a collection of short stories, The Real Thing: Stories and Sketches (1992); and most recently, African Laughter: Four Visits to Zimbabwe (1992). The first volume of her autobiography, Under My Skin Volume One of My Autobiography, to 1949, will be published this fall.

Ms. Lessing will read from her work and looks forward to a lively discussion with students. The reading and questions will be followed by a book signing. Many of her books will be available for purchase at the event courtesy of Huntley bookstore. The Marian Miner Cook Athenaeum is honored to host this rare appearance by one of the world's most distinguished authors, who will speak in McKenna Auditorium at 4:00 p.m.