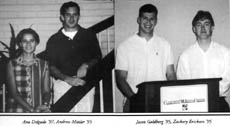 The Importance of the 1994 Elections
ANA DELGADO '97
ZACKARY ERICKSON '95
JASON GOLDBERG '95
ANDREW MITTLER '95
MONDAY, NOVEMBER 7, 1994
This year's midterm elections have important stakes. On the eve of the elections the Athenaeum is hosting a discussion of the meaning and importance of what could happen on election day. Four of CMC's leaders-in-the-making will analyze and debate some of the major questions of this year's elections, issues of significance at the state and federal levels.

Major national races this year point to what could be a substantial shift in American politics. Andrew Mittler '95 and Zackary Erickson '95 will present an interpretation and appraisal of the most crucial of these races. Both students have participated in CMC's Washington semester and have gained insight concerning political trends. Erickson is a researcher for the Henry Salvatori Center. Mittler interned at the Democratic National Campaign Committee headquarters and also heads the James Madison Society.

Californian politics hold important questions for voters this year. The race for governor has brought state and local news to the front page. This contest pitting Kathleen Brown against Pete Wilson has been one of the most analyzed state races in recent years. Jason Goldberg '95, another Washington alumnus, has been involved in the inner workings of political campaigns prior to this year's contest. His astute political eye and honed writing skills have garnered him exposure in national publications such as the Los Angeles Times, Foreign Trade Magazine, the Washington Times, and Inside magazine. He has also worked as a speech writer for Governor Wilson.

California Proposition 187 is another hotly debated issue. The subject of immigration and residency brings up questions of the definition of citizenship and the responsibilities of government. Ana Delgado '97 has been involved in the campus-wide debate about Proposition 187 and is a future participant in the Washington semester program. She will discuss and dissect this proposition-analyzing the details of the measure and its implications.

So join us for an important presentation on the midterm elections with questions ready for some of CMC's student leaders.