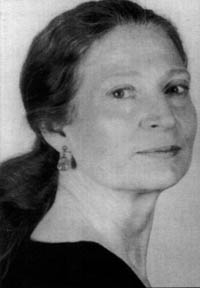 Readings From Her Work
KAREN SWENSON
MONDAY, NOVEMBER 14, 1994
Karen Swenson is a writer and world traveler in the tradition of Isak Dinesen and Peter Mathiessen. Her journeys into the hidden reaches of Southeast Asia, usually alone and often at great risk, are also an exploration of the inner rivers of her own heart and mind from which she returns bearing the gift of her poetry.

In The Landlady in Bangkok, for which Swenson was awarded the 1993 National Poetry Series prize, her experiences become accessible to her readers through evocative language of great precision and clarity. With other volumes, such as A Sense of Direction (1989), East-West (1980), and An Attic of Ideals (1974), she has won acclaim with the Pushcart Prize, the Arvon Foundation in England, and the Ann Stanford Award.

Swenson taught at City College, New York, for fifteen years and has also been poet-in-residence at Skidmore College, The University of Idaho, Denver University, and Scripps College. At the Athenaeum she will be reading from her latest work, The Landlady in Bangkok (1993), which David Ignatow describes as "quintessentially of cultures in division with each other ... at times humorous with each other under strain. The book is a reader's voyage I for one have enjoyed to my enlightenment."