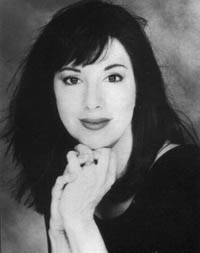 The Waiting Room: Women, Husbands, and Doctors
LISA LOOMER
WEDNESDAY, NOVEMBER 16, 1994
Lisa Loomer's new play, The Waiting Room (1994), takes a satirical look at American health care and the lengths to which women go to achieve "beauty." Underlying this absurdist comedy, however, is a very important message, inspired by Loomer's mother's battle with breast cancer.

Loomer began her career as an actress and comedienne. Her works include Birds (1986), Bocon! (1989), Looking for Angels, Cuts, Chain of Life, A Crowd of Two, and Accelerando (1991). Her plays have been performed in prominent venues across the nation, as well as in Mexico and Germany. For television, she has written a movie-of-the-week, a miniseries for PBS, sitcoms, and is currently a creative consultant on Hearts Afire ( 1993) and the upcoming Women of the House. Loomer has received grants from the NEA and NYFA, and was recognized as the runner-up for this year's Susan Smith Blackburn Award. She is the winner of the Jane Chambers Award, has been nominated for an Ovation award, and is an alumna of New Dramatists.

During her Athenaeum address Lisa Loomer will discuss issues of the play, The Waiting Room, and responses to it. She welcomes the opportunity to talk with students about these issues during the discussion period after her lecture.