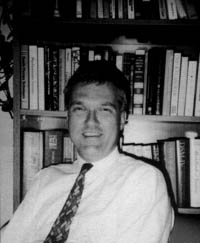 The Biological Basis of Schizophrenia
WILLIAM FAUSTMAN '77
THURSDAY, NOVEMBER 17, 1994
After graduating from CMC in 1977, William 0. Faustman went on to study one of the most intense aspects of clinical psychology: schizophrenia.

Faustman earned his Ph.D. at the University of Mississippi and now specializes in investigations of biological neuropsychology at the Stanford University Mental Health Clinical Research Center. Faustman teaches psychiatry and behavioral science at the Stanford School of Medicine. His research has been published in numerous prominent psychological journals such as Psychological Reports, The Journal of Cross-Cultural Psychology, and The Journal of Behavior Therapy and Experimental Psychiatry.

Recognized for his expertise in psychopharmacology and on issues of professional ethics, Faustman is frequently invited to major psychological professional meetings.

Faustman embodies the perfect melding of research and clinical practice and will receive the inaugural Distinguished Alumnus Award presented by the psychology department of Claremont McKenna College.