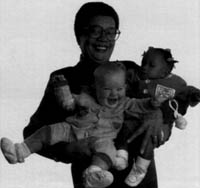 Leaving No Child Behind
MARIAN WRIGHT EDELMAN
MONDAY, JANUARY 23, 1995
Children must have at least one person who believes in them. It could be a counselor, a teacher, a preacher, a friend. It could he you. You never know when a little love, a little support, will plant a small seed of hope.

-Marian Wright Edelman, The Measure of Our Success

Marian Wright Edelman is one who believes and inspires others to believe in the greatest resource America will ever know: its children. Today's youth are tomorrow's leaders of families, communities, institutions, corporations, and our nation, yet every two hours gun violence takes the life of an American child. Over 13 million children live in poverty. Before the age of 20 many face pregnancy, arrest, or the consequences of dropping out of school. The Children's Defense Fund is a nonprofit organization founded by Edelman in 1973 that has represented America's children as a powerful advocate for Head Start in Congress and the White House, working to inspire grassroots campaigns to rebuild the foundations that support children in their homes and communities.

Moved by her father's wishes to continue her education and by the civil rights movement, Edelman pursued a degree in law at Yale Law School. She became the first black woman admitted to the bar in Mississippi. Upon opening a branch of the NAACP legal fund in Jackson, Mississippi, after graduation from Yale in 1964, she defended clients who had been beaten in jail, and she urged senators to visit Mississippi to witness for themselves the effects of poverty.

Throughout her childhood Edelman experienced segregation at the water fountains, at the movie theaters, watching inequalities and discrimination pervade her community. She has responded with action, determination, and, most important, hope for what she can do to make things better.

Lecturing from her bestselling book, The Measure of Our Success (1993), which explores problems that permeate our communities, and drawing on her experience, Marian Wright Edelman will help us to find ways to make sure we leave no child behind.

Edelman's address is sponsored by the Marian Miner Cook Athenaeum and the Office of the Chaplains, and it is the first event of the Community Service Awareness Week. Dinner reservations are available only for students, faculty, and staff from CMC; the lecture at 6:45 p.m. in McKenna Auditorium is open to all without prior reservation.