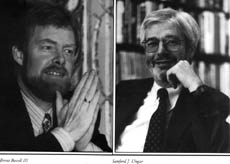 Should the Federal Government Continue to Fund Public Broadcasting?
BRENT BOZELL III
SANFORD UNGAR
MONDAY, JANUARY 30, 1995
Is there a liberal bias to the media? What is the future of the media in American society in light of the historic role of the "fourth estate"? Should there be federal funding for public (noncommercial) broadcasting? "Friendly adversaries" Brent Bozell and Sanford Ungar approach this discussion from opposing ideologies. Bozell makes the claim that the liberal bias in the media needs to be exposed and corrected, whereas Ungar maintains that the media saves democracy from totalitarianism. L. Brent Bozell is the founder and chairman of the Media Research Center in Alexandria, Virginia, and executive director of the Conservative Victory Committee. The MRC boasts a sophisticated research operation, compiled to document and expose liberal bias in the media. All network news programs, and most prime-time entertainment shows, are taped, analyzed, and stored in the MRC archives. Bozell has been chairman of the board and president of the National Conservative Political Action Committee and served as the national finance chairman for Pat Buchanan's 1992 presidential campaign. He is a nationally syndicated author, published in The Wall Street Journal, Chicago Tribune, The Washington Post, and National Review.

Bozell has also appeared on nationally syndicated television and radio shows such as CNN's Crossfire, Larry King Live, Nightline, and Headline News.

Sanford J. Ungar is dean of the School of Communication at American' University in Washington D.C. His career in print and broadcast journalism spans more than two decades. Ungar has been the host of All Things Considered on National Public Radio and has hosted "The CBS News Night Watch." He has been Washington editor of The Atlantic, managing editor of Foreign Policy magazine, a staff writer for The Washington Post, and a regular contributor to The Economist. He was a correspondent for United Press International in Paris and for Newsweek in Nairobi. Ungar's book, The Papers & the Papers: An Account of the Legal and Political Battle Over the Pentagon Papers (1972), won the George Polk Award in 1973. Other books include the bestseller Africa: The People and Politics of an Emerging Continent (1985), Estrangement: America and the World (1985), and FBI: An Uncensored Look Behind the Walls (1976), Ungar's recently completed book We Call Ourselves American: The New Immigrants is scheduled to be released by Simon & Schuster in 1995.

This is an opportunity to hear widely divergent points of view articulated by experienced professionals. Come prepared with questions and arguments of your own in order to participate in what is likely to be a lively debate.