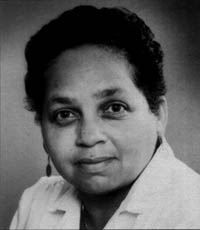 Black History Is Your History
KATHLEEN SAADAT
TUESDAY, JANUARY 31, 1995
January 1995, marks the beginning of the United Nations International Year of Tolerance. As we also move into Black History Month it is quite appropriate that Kathleen D. Saadat should introduce the month by speaking on the importance of acknowledging and accepting our common history as ways to help mend the many torn places in the fabric of our communities and our country. She will explore the very real limits placed upon all of us by intolerance and the greater implications of those limits as we try to survive as a country participating in the global economy. Saadat will discuss ways to remove some of the barriers that divide us and invite us to challenge ourselves on the personal level as part of the process of tolerance and acceptance.

Kathleen Saadat graduated from Reed College in Portland, Oregon, with a degree in psychology. She held the position of executive director of the Oregon State Commission on Black Affairs immediately prior to her appointment as Oregon State Director of Affirmative Action by former Governor Nell Goldschmidt in 1987. An activist and frequent public speaker, Saadat has been recognized by various organizations in Oregon and the Northwest. She received the Bayard Rustin Civil Rights Award (1992), the Civil Liberties Award from the Oregon chapter of the ACLU (1994), and was named one of "100 Who Lead in Oregon" by the Oregon Business Magazine (1993). The latter award was made primarily because of her work in opposition to Measure 9, Oregon's 1992 antigay initiative.

Kathleen Saadat's talk is sponsored by the Marian Miner Cook Athenaeum and the Office of Black Student Affairs. Everyone is cordially invited to attend.