Athenaeum Location
Print Newsletter
February 6, 1995
Vol. 10, No. 06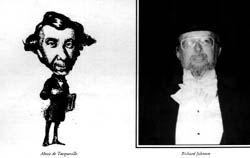 Alexis de Tocqueville Presents American Democracy: Past, Present, and Future
RICHARD JOHNSON
MONDAY, FEBRUARY 6, 1995
What makes democracy work? What threatens it? What do we need to do to improve our democracy? Bring these and other questions to a live conversation with the historical figure, Alexis de Tocqueville, the 19th-century Frenchman considered by many to be the foremost analyst of American democracy.

Tocqueville's trip to America in 1831-32 resulted in the most celebrated analysis of American society ever written, Democracy in America (1835). Tocqueville identified the key forces at work in democracy and made a number of astonishingly accurate predictions about the future of the American democracy. He is still quoted frequently on such issues as religion, the role of the press, and the importance of local groups and local government. Witty and insightful, he provides a chance to reexamine our strengths and weaknesses as a democratic society.

Tocqueville is presented as a live performance by scholar Richard Johnson, a professor of history at California Poly Pomona. He was chosen by the Inland Empire Educational Foundation and the California Council for the Humanities to portray Alexis de Tocqueville in a series of Chautauqua programs during 1994 and 1995. Johnson has written and published articles on a number of subjects in early 19th-century American history, and he is working on a book about social and political attitudes toward the American military during the 19th century.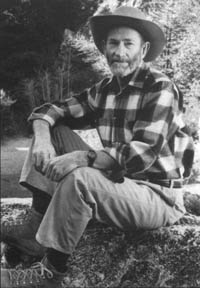 The Social Siege of Nature: A Response to Deconstructionism
MICHAEL SOULE
TUESDAY, FEBRUARY 7, 1995
The deconstructionist view asserts that all we can ever perceive about the world are shadows; we can never escape our particular biases and fixed historical and cultural positions. With this in mind, the natural world as described by scientists and conservationists is a human artifact produced by our economic activities and as such is grist for material reshaping, exploitation, and tinkering with what little remains of the wilderness. Michael Soule, along with Gary Lease, in the book Reinventing Nature: Responses to Postmodern Deconstructionism (1995) seek to oppose these views. Soule argues that the world, including its living components, really does exist apart from humanity's perceptions. In spite of differences among us in class, culture, gender, and historical perspective, we can gain dependable, scientific knowledge about this independent, natural world.

After graduating from San Diego State University, Soule received his advanced degrees from Stanford University, where he concentrated in population and evolutionary biology under Paul Ehrlich. He has done field work in Africa, Samoa, Australia, Yugoslavia, Mexico, and the West Indies and has held teaching positions in Malawi and at the University of Michigan. Currently, Soule is chair of environmental studies and director for the Center for Biodiversity Analysis and Management at UC Santa Cruz. His research interests include studies of morphological and genetic variation in natural populations of animals, island biogeography, and conservation biology.

The founder and first president of the Society for Conservation Biology and a fellow of the American Association for the Advancement of Science, Soule brings with him a depth of knowledge and understanding concerning the natural world. His expertise in biological diversity lends itself to the consultation of many agencies and organizations, including The Nature Conservancy, the U.S. National Parks Service, Forest Service, and Fish and Wildlife Service, the OTA, EPA UNEP, FAO, UNESCO, WWF-US, and the NAS/NRC.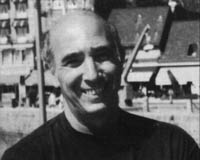 Genetics, Race, and IQ: Historical Reflections from Binet to the Bell Curve
DANIEL KEVLES
WEDNESDAY, FEBRUARY 8, 1995
With science racing toward a more complete understanding of human genetics and the applications of genetic alterations, public life is flaring with debates over ethics, heredity, and eugenics. Daniel J. Kevles has written widely on the development of science and its relationship to society past and present. His books In the Name of Eugenics: Genetics and the Uses of Human Heredity (1995) and The Code of Codes: Scientific and Social Issues in the Human Genome Project (1992) have established him as one of the premier American chroniclers of the interaction between science and society.

Kevles received his B.A. in physics and his Ph.D. in history from Princeton University. After a brief period on the White House staff, he joined the faculty of the California Institute of Technology, where he is now the Koepfli Professor of Humanities and the head of the program in science, ethics, and public policy.

Kevles has contributed numerous articles and book reviews for a variety of publications, including The New York Review of Books, The Sciences, The New Republic, Harper's, and The New Yorker, as well as for many scholarly journals. His works have earned a Page One award, a National Historical Society prize, and a nomination for the American Book Award in history.
KRAVIS/DeROULET LEADERSHIP CONFERENCE
The annual Kravis/deRoulet Leadership Conference is sponsored by the Kravis Leadership Institute. The conference addresses aspects of leadership performance and organizational effectiveness. This year's conference will employ an innovative format in which the presenter speaks at 6:00 p.m., before dinner. During dinner guests can discuss the speaker's remarks and following dinner the speaker will return to the podium to field questions arising from the discussions. At many of the tables invited corporate leaders and entrepreneurs, including several members of the Kravis Leadership Institute Board of Governors, will help to facilitate the discussions.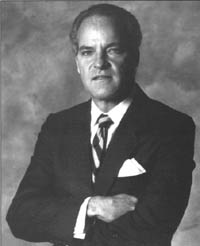 The Strengths of Leadership: Some Personal Thoughts
HENRY KRAVIS '67
THURSDAY, FEBRUARY 9, 1995
Henry Kravis and his partners took a small merchant banking firm and transformed it into the acknowledged leader in the development of the leveraged buyout. Since the founding of Kohlberg Kravis Roberts & Co., the firm has acquired more than 40 companies for a total investment of over $70 billion. A key to KKR's success with firms as divergent as food companies, banks, cable television distributors, and manufacturing concerns has been the ability to recognize and nurture effective leadership. Kravis, who sits on the boards of directors of RJR Nabisco Inc., Duracell Holdings Corporation, Safeway, Borden, and many other companies, will offer personal views on the characteristics of strong leaders, gleaned from his wide experience.

Kravis also serves on the boards of trustees of the Metropolitan Museum of Art, Mount Sinai Hospital, Public Television Channel 13/New York (where he is Chairman of the Board), and many other civic and charitable organizations. He is active in the prevention of drug and substance abuse and is responsible for the creation of Project High Road in New York, a highly acclaimed program in the public schools.

Closer to home, Mr. Kravis supported the founding of the Kravis Leadership Institute at Claremont McKenna College. The Institute seeks to improve the quality of leadership in contemporary society through original research, educational programs, and outreach activities. The 1995 Kravis/deRoulet Leadership Conference coincides with the inaugural meeting of the Kravis Institute Board of Governors.

Reservations for this event are available only for students, faculty, and staff from CMC.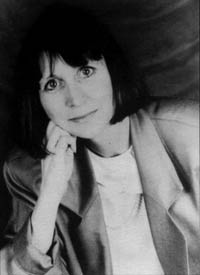 Who Stole Feminism?: How Women Have Betrayed Women
CHRISTINA HOFF SOMMERS
MONDAY, FEBRUARY 13, 1995
How would you define feminism? In speeches based on her book, Who Stole Feminism?: How Women Have Betrayed Women (1994), Christina Hoff Sommers maintains that feminism used to be about fairness and equality, not about male-bashing, censorship, and victim politics, as it is today. She argues that a limited group of feminist activists, claiming to speak for all women, have promoted an agenda that sets women against men. Seeking the "old feminism" that concentrated on legal reforms, Sommers would rather explore how women can join with men on equal terms to contribute to a universal human culture. In her opinion, "gender feminists" have propped up a "gynocentric" perspective on social reality with sloppy but well-funded research. Her address seeks to expose the manipulation of data on rape, battery, harassment, and wage differentials to "prove" how "patriarchal" culture keeps women down. While rejecting that perspective, Sommers takes a closer look at advocacy research and its effects on women, especially those who are in college and are currently entering the workforce.

Sommers, now an associate professor in the department of philosophy at Clark University, received her Ph.D. at Brandeis University. In addition to her book Who Stole Feminism?, Sommers has authored Right and Wrong: Basic Readings in Ethics (1986), Vice and Virtue in Everyday Life: Introductory Readings in Ethics (1985). An active speaker on feminism, Sommers has appeared on Nightline, The CBS Evening News, and Donahue. She has been awarded numerous grants. For a new definition of feminism, join Sommers as she challenges mainstream feminists and their supporters to take back the women's movement.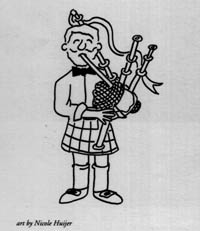 Celtic Folktales
MIKE CAMPBELL
DYLAN SCHWILK, guitar
TUESDAY, FEBRUARY 14, 1995
Celebrate Valentine's Day in Scottish style with dinner at the Athenaeum. After touring Scotland and England for five months as an apprentice to professional storytellers, Mike Campbell will entertain us with Celtic folktales. Campbell studied the life of the Scottish tinker, a dying breed of craftsman, and storytellers who lead a nomadic life in search of odd jobs. Campbell has captivated audiences for years and has recently shared his talents with audiences at Stanford University and Occidental College. A man with fiery red hair and beard, Campbell will don his kilt and unveil his Scottish accent to share tales of intrigue featuring lasses, giants, and men of great strength.
Our Worst Wartime Mistake?
YUJI ICHIOKA
WEDNESDAY, FEBRUARY 15, 1995
0n February 19, 1942, President Franklin Delano Roosevelt signed Executive Order 9066, paving the way for the internment of Japanese Americans during World War II. As Americans have become aware of this injustice in recent years, many have asked how the United States government could imprison its own citizens, solely on the basis of ancestry and race. Over 110,000 men, women, and children lost homes, farms, and businesses as they made the trek to desolate camps, where they lived for much of the war under armed guard and behind barbed wire.

Since the 19th century, Japanese Americans had made the United States their home. Despite decades of toll and investment, they found themselves prisoners in their own country. The government's justification of "national security" rang hollow as illegal aliens and citizens of Italian and German ancestry did not suffer the fate of wholesale forced removal. The Day of Remembrance speaker, historian Yuji Ichioka, will address the many questions surrounding the internment of the Japanese American, describing the episode as "our worst wartime mistake."

Ichioka, a professor at the University of California, Los Angeles, is an internationally-recognized scholar of Japanese American history. Educated at UCLA and Columbia University, Ichioka has taught history and Asian American studies for twenty years. The author of numerous publications, he is best known for his award-winning book, The Issei: The World of the First Generation Japanese Immigrants, 1885-1924 (1988). A native of San Francisco, Ichioka was incarcerated, along with his family, in the internment camp in Topaz, Utah, during World War II.

The Day of Remembrance commemorates a tragic and sad episode in our nation's history. Starting in 1978, Days of Remembrance ceremonies have taken place in many cities across the country each year. Most events take place on or near the 19th of February, which marks the tumult set into motion by Executive Order 9066.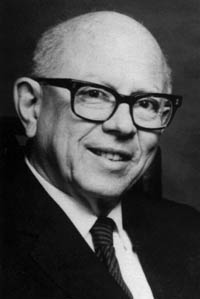 Korea and the U.S.: What Lies Ahead?
ROBERT SCALAPINO
THURSDAY, FEBRUARY 16, 1995
In spite of the end of the Cold War, the Korean Peninsula remains one of the most unstable areas in the world. For the past five decades the United States has been deeply involved in the management of Korean affairs. The United States still deploys about 40,000 troops there and maintains a very close economic and diplomatic relationship with South Korea. The United States is expected to ease economic sanctions against North Korea and to promote an exchange of liaison offices between the two capitals.

As specialist on Asian Affairs, Robert Scalapino is uniquely qualified to discuss the dynamic unfolding of U.S. relations with North and South Korea. He has made several government-sponsored trips to North Korea. On the second and third trips, he was head of an American mission on Korea sponsored by the Asia Society. The report prepared by his mission had a significant impact on policies of the Bush and Clinton administrations.

Scalapino is Robson Research Professor of Government Emeritus at the University of California at Berkeley. He has published 38 books or monographs on Asian politics and U.S. Asian policy, including Communism in Korea (1972) (two volumes, with Chong-Sik Lee, for which they received the American Political Science Association's 1974 Woodrow Wilson Award), The United States and Korea-Looking Ahead (1979), and Major Power Relations in Northeast Asia (1987). He is a Fellow of the American Academy of Arts and Sciences, and he serves on a number of prestigious academic and professional boards such as the Council on Foreign Relations, the Asia Society, the Asia Foundation, and the Atlantic Council.

The Keck Center for International and Strategic Studies is sponsoring this address by Dr. Robert A. Scalapino at the Athenaeum. You are cordially invited to attend and we encourage you to participate in the discussion after the lecture.