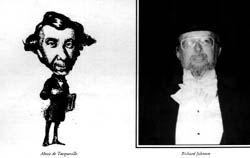 Alexis de Tocqueville Presents American Democracy: Past, Present, and Future
RICHARD JOHNSON
MONDAY, FEBRUARY 6, 1995
What makes democracy work? What threatens it? What do we need to do to improve our democracy? Bring these and other questions to a live conversation with the historical figure, Alexis de Tocqueville, the 19th-century Frenchman considered by many to be the foremost analyst of American democracy.

Tocqueville's trip to America in 1831-32 resulted in the most celebrated analysis of American society ever written, Democracy in America (1835). Tocqueville identified the key forces at work in democracy and made a number of astonishingly accurate predictions about the future of the American democracy. He is still quoted frequently on such issues as religion, the role of the press, and the importance of local groups and local government. Witty and insightful, he provides a chance to reexamine our strengths and weaknesses as a democratic society.

Tocqueville is presented as a live performance by scholar Richard Johnson, a professor of history at California Poly Pomona. He was chosen by the Inland Empire Educational Foundation and the California Council for the Humanities to portray Alexis de Tocqueville in a series of Chautauqua programs during 1994 and 1995. Johnson has written and published articles on a number of subjects in early 19th-century American history, and he is working on a book about social and political attitudes toward the American military during the 19th century.