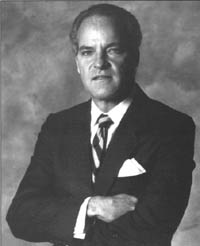 The Strengths of Leadership: Some Personal Thoughts
HENRY KRAVIS '67
THURSDAY, FEBRUARY 9, 1995
Henry Kravis and his partners took a small merchant banking firm and transformed it into the acknowledged leader in the development of the leveraged buyout. Since the founding of Kohlberg Kravis Roberts & Co., the firm has acquired more than 40 companies for a total investment of over $70 billion. A key to KKR's success with firms as divergent as food companies, banks, cable television distributors, and manufacturing concerns has been the ability to recognize and nurture effective leadership. Kravis, who sits on the boards of directors of RJR Nabisco Inc., Duracell Holdings Corporation, Safeway, Borden, and many other companies, will offer personal views on the characteristics of strong leaders, gleaned from his wide experience.

Kravis also serves on the boards of trustees of the Metropolitan Museum of Art, Mount Sinai Hospital, Public Television Channel 13/New York (where he is Chairman of the Board), and many other civic and charitable organizations. He is active in the prevention of drug and substance abuse and is responsible for the creation of Project High Road in New York, a highly acclaimed program in the public schools.

Closer to home, Mr. Kravis supported the founding of the Kravis Leadership Institute at Claremont McKenna College. The Institute seeks to improve the quality of leadership in contemporary society through original research, educational programs, and outreach activities. The 1995 Kravis/deRoulet Leadership Conference coincides with the inaugural meeting of the Kravis Institute Board of Governors.

Reservations for this event are available only for students, faculty, and staff from CMC.