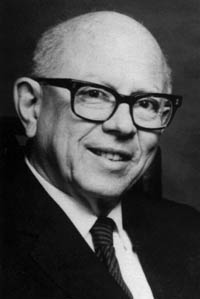 Korea and the U.S.: What Lies Ahead?
ROBERT SCALAPINO
THURSDAY, FEBRUARY 16, 1995
In spite of the end of the Cold War, the Korean Peninsula remains one of the most unstable areas in the world. For the past five decades the United States has been deeply involved in the management of Korean affairs. The United States still deploys about 40,000 troops there and maintains a very close economic and diplomatic relationship with South Korea. The United States is expected to ease economic sanctions against North Korea and to promote an exchange of liaison offices between the two capitals.

As specialist on Asian Affairs, Robert Scalapino is uniquely qualified to discuss the dynamic unfolding of U.S. relations with North and South Korea. He has made several government-sponsored trips to North Korea. On the second and third trips, he was head of an American mission on Korea sponsored by the Asia Society. The report prepared by his mission had a significant impact on policies of the Bush and Clinton administrations.

Scalapino is Robson Research Professor of Government Emeritus at the University of California at Berkeley. He has published 38 books or monographs on Asian politics and U.S. Asian policy, including Communism in Korea (1972) (two volumes, with Chong-Sik Lee, for which they received the American Political Science Association's 1974 Woodrow Wilson Award), The United States and Korea-Looking Ahead (1979), and Major Power Relations in Northeast Asia (1987). He is a Fellow of the American Academy of Arts and Sciences, and he serves on a number of prestigious academic and professional boards such as the Council on Foreign Relations, the Asia Society, the Asia Foundation, and the Atlantic Council.

The Keck Center for International and Strategic Studies is sponsoring this address by Dr. Robert A. Scalapino at the Athenaeum. You are cordially invited to attend and we encourage you to participate in the discussion after the lecture.