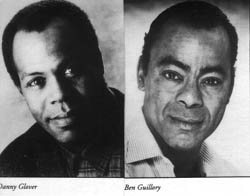 An Evening with Langston and Paul
DANNY GLOVER
BEN GUILLORY
WEDNESDAY, MARCH 1, 1995 McKenna Auditorium
My People

The night is beautiful,
So the faces of my people.

The stars are beautiful,
So the eyes of my people.

Beautiful, also, is the sun.
Beautiful, also, are the souls of my people.

from Selected Poems of Langston Hughes

In recognition of Black History Month, the Marian Miner Cook Athenaeum and the Office of Black Student Affairs welcome Daniel Glover and Bennet Guillory to celebrate the works of Langston Hughes and recapture the experiences of Paul Robeson.

One of Hollywood's most versatile and respected actors, Danny Glover has gained international star status for his portrayal of police detective Roger Murtagh opposite Mel Gibson in the megahit Lethal Weapon (1987) cinematic series. He also has appeared in The Color Purple (1985), Grand Canyon (1991), and Places in the Heart (1984). Glover won an Academy Award for his portrayal of Moze in Places in the Heart, as well as an Emmy nomination for his role in one of television's highest rated miniseries, Lonesome Dove. In addition to his pursuits as an actor, Glover is active within the community. He spends one month a year on a corporate-sponsored tour speaking to children and adults across the country about the importance of education, abstinence from drugs, and other teenage-related issues. His energy and enthusiasm is also demonstrated in his work as a spokesman for the National Association for Sickle Cell Disease and in his work to help others overcome the obstacles of dyslexia. On Wednesday, Glover will read excerpts from a master of American verse: poet Langston Hughes.

Ben Guillory has worked extensively in theater, film, and television. While studying and working five seasons at the American Conservatory Theater in San Francisco, Guillory appeared in numerous classic contemporary plays, including Julius Caesar, The Taming of the Shrew, Peer Gynt, The Misanthrope, The Cherry Orchard, and Othello to name a few. Guillory will share with us highlights from his award-winning portrayals of Paul Robeson. Not only did Guillory win San Francisco's Critic Circle Award for his portrayal of Robeson in the Illustrated Stages' production of Are You Now Or Have You Ever Been, Guillory was also recognized for his one-man performance in Philip Haye Dean's Paul Robeson with the Drama-Logue Award and a Special NAACP Image Award. Guillory's talent as an actor well represents the poised and powerful Robeson, a legendary Renaissance man. By the time Robeson had graduated from Rutger's University in 1919, he was the first and only person to be named All-American four times for his participation in football, basketball, and baseball. After graduating Phi Beta Kappa and as class valedictorian, Robeson went on to Columbia University Law School. He changed career paths and turned to dramatic roles on the stage after a New York law firm refused to let him handle any cases of consequence. His resonant bass voice also established him as a major concert singer. Despite his talents, Robeson faced persecution for his race and political beliefs, meeting adversity with the courage of his convictions. Complimented by critics for his "poet's sense of theater" and "warmth," Ben Guillory will share excerpts from his performances based on Paul Robeson's life in "An Evening with Langston and Paul."

This evening's performance begins at 7:00 p.m. in McKenna Auditorium.