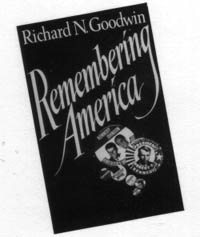 Quiz Show: The Loss of Innocence
RICHARD GOODWIN
MONDAY, MARCH 6, 1995
As a special assistant to President Lyndon Johnson, Richard Goodwin originated the concept of the Great Society program. He drafted most of Johnson's addresses and messages dealing with the Great Society, and participated in the writing of the Voting Rights Act of 1965.

Goodwin began his political career after graduating from Harvard Law School in 1958. John F. Kennedy, Lyndon Johnson, Eugene McCarthy, Robert F. Kennedy, and Supreme Court Justice Felix Frankfurter have all employed his talents and given him the opportunity to leave his stamp on the American landscape.

A columnist for the Los Angeles Times, Goodwin frequently contributes to The New Yorker, Life Magazine, and McCall's. Working for the House subcommittee on legislative oversight, Goodwin investigated the rigged television game shows and touched off a national scandal. The movie, Quiz Show (1994), is based on that scandal.

Richard Goodwin has had a hand in the development of American politics and society. His most recent book, Remembering America, reflects on the culture and country that he worked to build. The author of The American Condition (1974) and Triumph or Tragedy: Reflections on Vietnam (1966), Goodwin is also a shrewd commentator on the future of American society.

The visit to the Athenaeum by this distinguished couple, Richard Goodwin and Doris Kearns Goodwin, is sponsored by the department of history, the Office of the President, and the Kravis Leadership Institute.