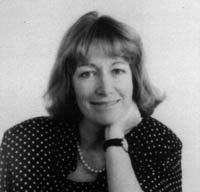 Franklin and Eleanor Roosevelt: The Politician and the Agitator
DORIS KEARNS GOODWIN
TUESDAY, MARCH 7, 1995
0f Doris Kearns Goodwin's Fitzgeralds and the Kennedys: An American Saga (1991)- a biography that appeared on bestseller lists for six months- The New York Times remarked, "Rarely has popular history rung so authentic." Her earlier book, Lyndon Johnson and the American Dream (1991), was hailed as "the most penetrating political biography ever written."

Goodwin enjoys success in both popular and critical circles achieved with biographies that are both illuminating and readable. Her most recent book, No Ordinary Time: Franklin and Eleanor Roosevelt; The Homefront in World War II (1994), is a captivating, insightful work that solidifies her reputation as one of America's best biographers.

A former Woodrow Wilson fellow and Harvard professor of government, Goodwin is a regularly featured political analyst on The McNeil News Hour, Nightline, and Today. She graduated Phi Beta Kappa from Colby College and holds a Ph.D. in government from Harvard. She often contributes to national publications and PBS documentaries. She was the first woman journalist to enter the Boston Red Sox locker room.

Doris Kearns Goodwin captures American politics and politicians as no other historian does, with a voice as sharp as the woman behind it.

The visit to the Athenaeum by this distinguished couple, Richard Goodwin and Doris Kearns Goodwin, is sponsored by the department of history, the Office of the President, and the Kravis Leadership Institute.