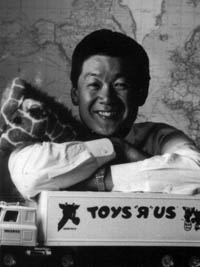 Leadership in Business
ROBERT NAKASONE '69 P'95
MONDAY, MARCH 20, 1995 12:00 p.m.
Toys "R" Us is the largest, fastest growing, and most profitable toy retailer in the world with more than 619 toystores in the United States and 290 stores internationally. The corporation also operates 211 Kids "R" Us discount children's clothing stores. Together, total combined corporate sales exceed $7 billion, and the corporation employs more than 70,000 individuals.

As president and chief operating officer, Robert Nakasone has responsibility for all worldwide toystores in 20 countries. In 1995 Toys "R" Us will open an additional 40 stores in the United States and 60 stores overseas.

Nakasone grew up in Southern California, attended Claremont McKenna College, and received his B.A. in 1969 cum laude. He graduated with honors in 1971 from the University of Chicago Graduate School of Business MBA program. Nakasone is currently the highest-ranking Asian-American at a Fortune 100 corporation. In addition to serving on the Toys "R" Us board of directors, he is a trustee of Claremont McKenna College, a member of the board of directors of Staples, Inc., and an honorary chairman of the Japanese-American National Museum Leadership Campaign.

Don't miss the opportunity to meet this distinguished alumnus of CMC. Robert Nakasone's appearance at the Athenaeum is sponsored by the Kravis Leadership Institute. Lunch will be served at 11:45 a.m. and Mr. Nakasone will speak at noon.