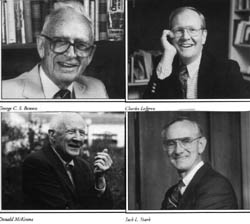 The History and Mission of Claremont McKenna College
GEORGE C.S. BENSON P'61
CHARLES LOFGREN
DONALD McKENNA
JACK STARK '57
WEDNESDAY, MARCH 22, 1995
In 1996-97, Claremont McKenna College will celebrate its 50th anniversary. The Marian Miner Cook Athenaeum is proud to present an evening devoted to the history and mission of the college. As the time draws near to celebrate a milestone in the life of the college, an exploration of the past will offer perspectives on the present and the future of CMC.

How has the institution changed over the years? How was CMC a part of the overall vision for The Claremont Colleges consortium? Who are the people and what are the events that have helped shape Claremont McKenna College? The search for answers represents an ongoing dialogue among all members of the college community-a dialogue that extends back into the 1920s.

To help facilitate the evening, Charles Lofgren, Roy P. Crocker Professor of American History and Politics, will serve as moderator and comment on the early days of CMC. Lofgren is currently researching and writing a history of Claremont McKenna College. President Jack L. Stark will discuss the mission of the college and its role in higher education today.

The Athenaeum is especially grateful to President Emeritus George C. S. Benson and Life Trustee Donald McKenna for their participation in the panel discussion following the comments by Lofgren and Stark. Both men have been instrumental in the success of CMC-providing invaluable leadership and guidance.

In the tradition of a town meeting students, staff, faculty, trustees, and friends are invited to participate in this special event.