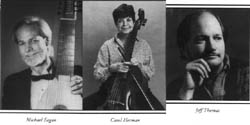 Stotsenberg Chamber Music Series
The Music of Henry Purcell and His Time
MICHAEL EAGAN, lute
CAROL HERMAN, viola
JEFFREY THOMAS, tenor
THURSDAY, APRIL 13, 1995
Nineteen ninety-five is "the Purcell year," commemorating the tercentenary of the death of England's musical genius Henry Purcell (1659-1695). During 20 active years Purcell composed five dramatic operas; music for more than 40 plays; over 20 odes and welcome songs for the courts; sacred songs; anthems and services; more than 100 solo songs; and assorted other vocal and instrumental music-all of the highest caliber.

Purcell grew up in the shadow of London's Westminster Abbey. Among his distinguished literary and musical neighbors were Dryden, Milton, Wren, and Pepys. His London also knew plague-Purcell was five when his father died and a few years later London was devastated by the Great Fire of 1666. With good connections, young Henry became a boy chorister at the Abbey. When his teacher-organist John Blow-resigned, Purcell became Abbey organist at the age of 17.

Nepotism and good luck worked hand-in-hand with talent as Purcell moved from steady job to steady job, even through successive and radically opposed monarchies. With a Catholic wife and court positions under Catholic sympathizer Charles II and confessed Catholic James II, he still kept his post at the Protestant Abbey. At the end of his life he held a post in the court of Protestants William III and Mary.

Music tumbled from Purcell-sacred or secular, political parody or personal tribute, elegant or bawdy-produced with style and flair, harmonic brilliance, and stunning inventiveness.

Cited as "a superstar among oratorio tenors" by the Wall Street Journal, Jeffrey Thomas's distinguished career includes performances as soloist or conductor throughout the United States, and in Austria, England, Mexico, Italy, Japan, and Germany. Thomas is the Artistic and Music Director of the American Bach Soloists, with whom he has recorded more than 25 cantatas, and several other major early music works. Currently Acting Music Director of the Dallas Bach Society and Director of the American Classical Soloists, he is also an instructor at UC Berkeley.

Director of the Musica Angelica Early Music Series, Michael Eagan has performed extensively throughout the United States and Europe. He performs and records with the American Bach Soloists and Philharmonia Baroque Orchestra, and regularly appears with opera companies and chamber groups. Eagan composes for TV, stage, and film and was a recent recipient of the Henry Mancini Award for the Composition of Music for Motion Pictures and TV Films. The Los Angeles Guitar Quartet has recently recorded his first work for their ensemble.

A Claremont resident, Carol Herman teaches and performs in the Los Angeles area and on the West Coast on Baroque cello and viola da gamba. She has taught for USC, UCR, and CSLA, is a regular faculty member of early music workshops, and directs a yearly summer workshop for viols. She has performed and taught across the U.S., and in Canada, Mexico, England, Germany, Australia, and New Zealand. She has written two volumes of contemporary settings of Emily Dickinson poems, two method books for viols, and a booklet of humorous poems "of a musical nature."

This will be the final concert of the Stotsenberg Chamber Music Series.