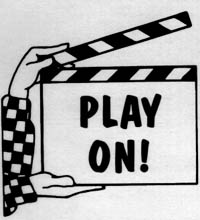 Dinner Theater
Play On! by Rick Abbot
Thursday-Saturday, April 6-8, 1995
DINNER AND PLAY 6:00 p.m.

A Special Notice to the CMC Community

Claremont McKenna College's theater group Under the Lights presents its seventh foray into dinner theater at the Marian Miner Cook Athenaeum. Join the cast and crew of Rick Abbot's Play On! (1980) as they attempt to perform "Murder Most Foul," a conspicuously funny murder mystery by an overzealous local author. Through last minute rewrites, missed cues, and an overly aggressive crew, the cast battles to even reach the hilarious final curtain. Don't miss this opportunity to see the unpolished side of theater-it may not be what you expect!

Claremont Colleges students, faculty, and staff No Charge
Community guests $13.50 per person

Seating will be festival style and is limited. Sign up as soon as possible, circling your first, second, and third choice of date. You will be contacted if your first choice reservation date is unavailable.