Athenaeum Location
Print Newsletter
April 17, 1995
Vol. 10, No. 10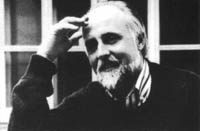 Dizzy with Democracy: Critical Perspectives on the New World Disorder
KEN JOWITT
MONDAY, APRIL 17, 1995
Ken Jowitt has been an important and controversial voice in current debates over the global implications of the collapse of communism. In his trenchant study New World Disorder: The Leninist Extinction (1992), Jowitt described the Leninist extinction in the former Soviet Union as creating a "genesis environment." He challenges the "end of history" model of Francis Fukayama and the "clash of civilizations" model of Samuel Huntington. Jowitt cautions those who would see the former Soviet Union simply as a blank slate ready to be inscribed with a democratic capitalist script. Instead, he offers a complex exploration of the possible and competing definitions of political life in the former Soviet empire.

Educated at Columbia College and UC Berkeley, Jowitt is the author of two books and dozens of articles. He is also a contributor on politics to the Times Literary Supplement. He has lectured throughout Europe and in the United States for such prominent organizations as Ameritech, the Defense Intelligence Agency, and McKinsey Corporation. For almost two decades, Jowitt has been known as a legendary lecturer at Berkeley, where he is Professor of Political Science and University Distinguished Teacher.

Join us for this provocative vision of Eastern Europe's future.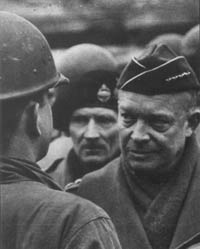 General Dwight D. Eisenhower in World War II
DAVID EISENHOWER
TUESDAY, APRIL 18, 1995
David Eisenhower's Eisenhower At War, 1943-1945 (1987), a national bestseller and the sole finalist for the 1986 Pulitzer Prize in history, reflects on the presidency of his grandfather and the tumultuous times that characterized his epoch. Even now, 50 years removed from World War II, Dwight D. Eisenhower remains one of the strongest and most-identifiable icons of the 20th century-his name alone conjures distinct and moving images the likes of which no other public figures can match.

Over the years, David Eisenhower has authored reviews and articles for national publications and books, as well as a column for the Philadelphia Bulletin. The awards and appointments he has earned as a historian and political analyst are testimony to a lifework well sculpted. He has lectured at the University of Pennsylvania on the topics of U.S. foreign policy and postwar Europe, and he has devoted much of his nonwriting time to public speaking on World War II and the American presidency.

After graduating from Amherst College and serving as a naval officer aboard the USS Albany, David Eisenhower earned a law degree from George Washington University. He sits on numerous boards, including those of Gettysburg College, the Pennsylvania Humanities Council, Freedom House, and the Center for the Study of the Presidency. In 1991, in recognition of Eisenhower At War, 1943-1945, he was named a Society of American Historians fellow.

This special presentation is part of the CMC Res Publica series, which recognizes outstanding contributions to public affairs.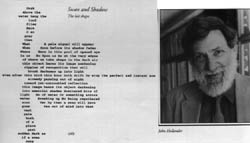 A Poet Reads from His Work
JOHN HOLLANDER
WEDNESDAY, APRIL 19, 1995
In the nearly four decades since John Hollander's first book of poetry, A Crackling of Thorns, was selected by W. H. Auden for publication in the Yale Series of Younger Poets (1958), he has steadily beguiled readers with the variety, polish, and wit of his poems. Hollander explores a broad range of emotional territory with a formal grace and technical control that are rare in modern poetry. Love, loss, art, music, friendship, the fleeting nature of life-Hollander takes us into all of these areas without ever allowing deeply personal observation to slip into selfindulgence. It is, in fact, Hollander's very control that enhances and channels his poetry's emotional expressiveness.

"An unexcelled virtuoso of the verbal keyboard," as Marie Boroff has called him, Hollander is often praised for the musicality of his work, which is also informed by his own interest in music. But the visual arts also lie at the heart of many a Hollander poem. A modern practitioner of the ancient mode of ekphrasis, Hollander has produced poems on art works by, among others, Velazquez, Monet, Edward Hopper, and his own wife, the sculptor Natalie Charkow. In 1969 Hollander demonstrated at once his originality and traditionalism by accomplishing a feat that, according to the editors of The Norton Anthology of Modern Poetry, "no other contemporary could or would attempt." In his book, Types of Shape (1969), Hollander adapted the tradition of emblem poetry to a modern idiom. Each poem in this book, like "Swan and Shadow" shown here, is written in the physical shape of the thing it describes, blending visual and verbal elements into a unified whole.

A distinguished scholar as well as a poet, Hollander is A. Bartlett Giamatti Professor of English at Yale. In addition to his many volumes of poetry, he is the author of four books of literary criticism, including the often reprinted Rhyme's Reason: A Guide to English Verse (1981). His numerous awards include a MacArthur Foundation Fellowship, a Guggenheim Fellowship, and the Bollingen Prize for Poetry. His Selected Poetry was published by Knopf in 1993.

John Hollander's appearance at the Athenaeum is sponsored by the Benjamin Z. Gould Center for Humanistic Studies.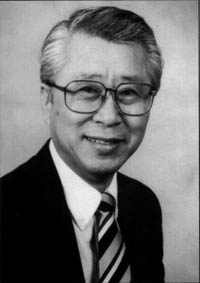 The First 100 Days of the 104th Congress and the Republican Contract with America
JAY KIM
THURSDAY, APRIL 20, 1995 12:00 Noon
Ever since Franklin Roosevelt introduced the New Deal during the depths of the Depression, Americans have been obsessed with the first 100 days of a term in office. For the first time in 40 years, the Republicans have regained control of the House of Representatives. What makes the changing of the guard interesting is that no Republican representative in the 104th Congress has ever served under a Republican speaker of the House. Newt Gingrich has announced a public mandate to introduce The Contract With America in hopes of enacting radical change within the first 100 days under Republican rule. Whether this reflects a mandate straight from the public and if the original goal can be achieved are hotly debated topics. The Contract raises intriguing questions concerning the direction of this country. Representative Jay Kim will discuss The Contract With America as well as the first hundred days.

Kim, born in Korea, came to the United States as a young man and settled in the west end of San Bernardino County. Educated in Southern California, Kim founded JAYKIM Engineers which was recognized as one of the top 500 design firms in the country. He began his public service as mayor of Diamond Bar and as a member of the city council. In 1992 Kim was elected to the United States Congress, where he serves on the House Transportation and Infrastructure Committee and the House International Relations Committee. His Athenaeum appearance is sponsored by the Rose Institute of State and Local Government.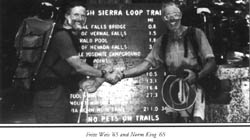 Along the Muir Trail
NORM KING '65
FRITZ WEIS '65 P'94
THURSDAY, APRIL 20, 1995
What do a city manager and a college treasurer have in common? Norm King and Fritz Weis share a love for the high Sierra and all of its glorious sights and experiences. These 1965 graduates of Claremont McKenna College have climbed the peaks and trekked the trails of the 211-mile John Muir Trail, which spans the highest and most scenic part of the Sierra Nevada mountains-from the summit of Mount Whitney, through ten mountain passes, finishing in Yosemite Valley. Two 14-day backpacking trips in the summers of 1992 and 1994 provide the stories and slides of a trip replete with bear encounters, fishing tales, flower-filled meadows, and panoramic vistas.

Both amateur photographers, King and Weis have backpacked together since graduating from CMC. King will share with us his interest in the writings of John Muir and will provide background on the creation of the trail. Weis is an avid fly fisherman who relishes the challenge of planning a 14-day trek. When he is not managing the funds of the college, he has been known to produce delightful meals at camp and at home. His recipes for backpacking success should not be missed.

Come share the beauty of the backwoods with these two alumni adventurers and learn about the art of backpacking.
Senior Art Show
ASIF AHMED '95
EDRICK CHUA '95
RENE GABRI '95
HELEN OH '95
JEREMY SUNG '95
FRIDAY, APRIL 21, 1995 3:00 p.m.
The Athenaeum will be transformed into an art gallery as five gifted CMC seniors display their work. The exhibit will be open beginning at 8:00 a.m. until 5:00 p.m. on Friday, April 21. There will be a reception with refreshments and music beginning at 3:00 p.m. at which time you will have the opportunity to greet the artists.
ASIF AHMED '95
An environment, economics, and politics and film studies major, Asif Ahmed presents
Lost Dream
, his fifth feature film production. For Ahmed's senior project, he not only wrote the screenplay, he also produced and directed the film.
Lost Dream
follows two college students, Perry and Giovanni, as they develop a friendship based upon their suicidal behavior. Perry, plagued by prophetic dreams, is tormented by his position in society. Giovanni, distressed by his troubled childhood, has lost his desire to live. Together they challenge each other's existence in search of salvation. The film will be shown in Freeberg lounge at the Athenaeum throughout the day on Friday.
EDRICK CHUA '95
Edrick Chua's work begins with organic forms then ventures far from reality to end in abstract form. He strives for aesthetic appeal over realism. Chua began his career at CMC aiming his studies towards medicine. Though he has kept biology as his major, his minor in art has inspired him to seek a career in architecture. His presentation will feature his experiments in sculpture using paper and wax. He is currently working on a sculpture that will play with light in a wire frame covered with tissue paper.
RENE GABRI '95
Rene Gabri is a psychology major who has found time to pursue his interest in art. He feels that these two interests complement one another. His works are in many respects explorations of the self. His style reflects his personal views of the self as a multiplicity of personalities. Gabri has presented his artwork in shows at both Colorado College and Scripps. His drawings have appeared in numerous publications and newspapers. Three of his paintings in this show comprise his series on life. They explore the beginnings of the individual as an unrestrained being, life on earth, and finally a return back to the darkness.
HELEN OH '95
As a studio art and biology major, Helen Oh has brought a scientific quality to her art. Using plaster, she has created a series of work that finds a basis in biomorphic images. Her technique features the use of fabric sheets dipped in plaster then molded to human forms. Observational study, like the kind one finds in the field sciences, inspires her work as an artist. Oh attributes her development to the hands-on and helpful atmosphere fostered within the Scripps art department. In the future, she hopes to pursue a master's degree in the fine arts, then teach art at the college level.
JEREMY SUNG '95
Jeremy Sung entered Claremont McKenna College with an interest in international relations. Since then he has revisited an interest he developed in high school: sculpture. The interaction between fellow artists at Scripps College drew him towards a major in studio art and since then he has experimented with various media to find an affinity with clay and bronze sculpture. Past prints by Sung have been featured at the Emett Student Center at Claremont McKenna College and the Lang Gallery at Scripps. Sung's presentation at the Athenaeum will feature his development as an artist and exploration with various techniques.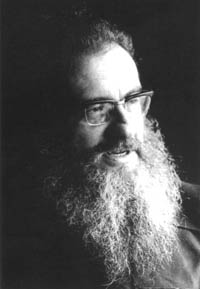 Readings From The Fuehrer Bunker: The Complete Cycle
W. D. SNODGRASS
TUESDAY, APRIL 25, 1995
The Fuehrer Bunker: The Complete Cyele (1995) is one of the most unusual and controversial works of modern poetry. W. D. Snodgrass has worked on this cycle of poems for the last quarter century, and its publication this spring coincides with the 50th anniversary of the collapse of Hitler's Reich. An oratorio of dramatic monologues, The Fuehrer Bunker depicts the psychodrama of the German high command-Adolf Hitler, Heinrich Himmler, Joseph Goebbels, Albert Speer, Hermann Goering-during the last months of World War II before Hitler committed suicide in the bunker. "My aim is to investigate the thoughts and feelings behind the public facade which made those actions possible. My poems, then, must include voices they would hide from others, even from themselves," Snodgrass explains.

Displaying technical mastery of a wide variety of poetic forms, Snodgrass explores human evil in many of its incarnations. In a series of villanelles and triolets, Magda Goebbels explains why she killed her children when it was clear Germany was losing the war. Hitler describes his sexual obsessions. Stripped of his command, Himmler attempts to predict the future. Interspersed among the monologues are the songs of Old Lady Barkeep who is both chorus and mistress of ceremonies. She sings of the high command's deceit and craftiness and the people's disillusionment with their leaders.

Snodgrass, along with his mentor, Robert Lowell, was responsible for the emergence of American confessional poetry. He won the Pulitzer Prize in 1960 for his first book, Heart's Needle (1959). In 1977 The Fuehrer Bunker: A Cycle of Poems in Progress was nominated for the National Book Critics Circle award for poetry and produced at the American Place Theater. Snodgrass has been Distinguished Professor of Creative Writing and Contemporary Poetry at the University of Delaware.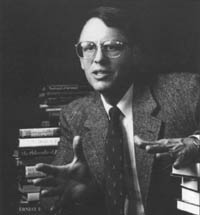 In Remembrance of the Holocaust
JOHN ROTH
WEDNESDAY, APRIL 26, 1995
As we approach the 50th anniversary of V.E. Day, the importance of remembering why World War II was fought only grows. The genocidal destruction of millions of Jews and other innocent people by Hitler's Nazis is one of the most haunting experiences in all of human history; it is the troubling material for countless works of philosophy, history, religion, literature, and art. John Roth, CMC's Pitzer Professor of Philosophy, has earned wide acclaim for his scholarship on the Holocaust and on the American dream. As one of CMC's most cherished assets, he has inspired students for more than two decades, challenging them to achieve a better understanding of the Holocaust that is at once logical and visceral.

Roth received his B.A. from Pomona College, where he first decided to become a teacher. He earned his Ph.D. in philosophy at Yale University and has been a professor of philosophy at CMC ever since. In 1988 he was selected National Professor of the Year by the Council for Advancement and Support of Education and the Carnegie Foundation for the Advancement of Teaching. In addition, he is the author of more than twenty books and numerous articles that have helped to establish him as one of the most esteemed scholars in his field.

The Athenaeum is honored to have this distinguished scholar and teacher as its final speaker of the academic year.