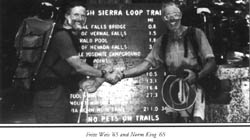 Along the Muir Trail
NORM KING '65
FRITZ WEIS '65 P'94
THURSDAY, APRIL 20, 1995
What do a city manager and a college treasurer have in common? Norm King and Fritz Weis share a love for the high Sierra and all of its glorious sights and experiences. These 1965 graduates of Claremont McKenna College have climbed the peaks and trekked the trails of the 211-mile John Muir Trail, which spans the highest and most scenic part of the Sierra Nevada mountains-from the summit of Mount Whitney, through ten mountain passes, finishing in Yosemite Valley. Two 14-day backpacking trips in the summers of 1992 and 1994 provide the stories and slides of a trip replete with bear encounters, fishing tales, flower-filled meadows, and panoramic vistas.

Both amateur photographers, King and Weis have backpacked together since graduating from CMC. King will share with us his interest in the writings of John Muir and will provide background on the creation of the trail. Weis is an avid fly fisherman who relishes the challenge of planning a 14-day trek. When he is not managing the funds of the college, he has been known to produce delightful meals at camp and at home. His recipes for backpacking success should not be missed.

Come share the beauty of the backwoods with these two alumni adventurers and learn about the art of backpacking.