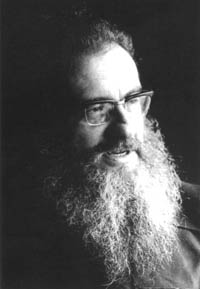 Readings From The Fuehrer Bunker: The Complete Cycle
W. D. SNODGRASS
TUESDAY, APRIL 25, 1995
The Fuehrer Bunker: The Complete Cyele (1995) is one of the most unusual and controversial works of modern poetry. W. D. Snodgrass has worked on this cycle of poems for the last quarter century, and its publication this spring coincides with the 50th anniversary of the collapse of Hitler's Reich. An oratorio of dramatic monologues, The Fuehrer Bunker depicts the psychodrama of the German high command-Adolf Hitler, Heinrich Himmler, Joseph Goebbels, Albert Speer, Hermann Goering-during the last months of World War II before Hitler committed suicide in the bunker. "My aim is to investigate the thoughts and feelings behind the public facade which made those actions possible. My poems, then, must include voices they would hide from others, even from themselves," Snodgrass explains.

Displaying technical mastery of a wide variety of poetic forms, Snodgrass explores human evil in many of its incarnations. In a series of villanelles and triolets, Magda Goebbels explains why she killed her children when it was clear Germany was losing the war. Hitler describes his sexual obsessions. Stripped of his command, Himmler attempts to predict the future. Interspersed among the monologues are the songs of Old Lady Barkeep who is both chorus and mistress of ceremonies. She sings of the high command's deceit and craftiness and the people's disillusionment with their leaders.

Snodgrass, along with his mentor, Robert Lowell, was responsible for the emergence of American confessional poetry. He won the Pulitzer Prize in 1960 for his first book, Heart's Needle (1959). In 1977 The Fuehrer Bunker: A Cycle of Poems in Progress was nominated for the National Book Critics Circle award for poetry and produced at the American Place Theater. Snodgrass has been Distinguished Professor of Creative Writing and Contemporary Poetry at the University of Delaware.