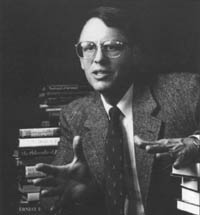 In Remembrance of the Holocaust
JOHN ROTH
WEDNESDAY, APRIL 26, 1995
As we approach the 50th anniversary of V.E. Day, the importance of remembering why World War II was fought only grows. The genocidal destruction of millions of Jews and other innocent people by Hitler's Nazis is one of the most haunting experiences in all of human history; it is the troubling material for countless works of philosophy, history, religion, literature, and art. John Roth, CMC's Pitzer Professor of Philosophy, has earned wide acclaim for his scholarship on the Holocaust and on the American dream. As one of CMC's most cherished assets, he has inspired students for more than two decades, challenging them to achieve a better understanding of the Holocaust that is at once logical and visceral.

Roth received his B.A. from Pomona College, where he first decided to become a teacher. He earned his Ph.D. in philosophy at Yale University and has been a professor of philosophy at CMC ever since. In 1988 he was selected National Professor of the Year by the Council for Advancement and Support of Education and the Carnegie Foundation for the Advancement of Teaching. In addition, he is the author of more than twenty books and numerous articles that have helped to establish him as one of the most esteemed scholars in his field.

The Athenaeum is honored to have this distinguished scholar and teacher as its final speaker of the academic year.