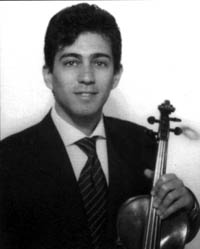 Music of Beethoven, Sibelius, and Paganini
ROBERTO CANI, violin
ANITA SWEARENGIN, piano
THURSDAY, SEPTEMBER 28, 1995
Roberto Cani's violin recitals and solos have earned him international acclaim and recognition. Since he began playing the violin at the age of seven, he has performed at some of Europe's most prestigious conservatories and venues. When he won the Minetti Award in 1986, Cani was catapulted into the public eye with concerts at Gaveau Hall in Paris and at the Milano Conservatory.

Cani's performances in Italy, France, Poland, and the former countries of Yugoslavia and the Soviet Union were received with the highest praise from critics who predicted the rise of his solo career. He won the Jeunesses Musicales competition in Belgrade, Yugoslavia, as well as a special prize for best performance. In his native Italy Cani took a top prize in the International Competition in Genova. He was also awarded the first prize in France's Chateaux de Courcillon competition in 1993.

Following a string of international awards, Cani has recorded The Four Seasons (1725) by Vivaldi and his most recent recording includes the sonatas by Busoni and Respighi.

After receiving his degree from the Conservatory in Milano, Cani continued his violin studies in Moscow. He is currently pursuing the Artist Diploma at the University of Southern California under the guidance of Professor Alice Schoenfeld.

This evening's program is the first in the Stotsenberg Chamber Music Series, funded by a gift from Ed and Dorothy Stotsenberg, friends of the College.