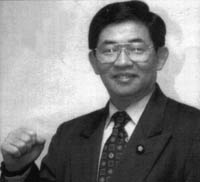 Taiwan's Democratization and Cross-Strait Relations
PARRIS CHANG
WEDNESDAY, SEPTEMBER 20, 1995
President Lee Teng-hui's visit to the United States, China's military exercises in the Taiwan Strait, the current crisis in Sino-American relations, and the forthcoming elections in Taiwan demonstrate the critical importance of recent developments in Taiwan. Dr. Parris H. Chang, Director of Taiwan's Democratic Progressive Party's Mission in Washington, D.C., represents the voice of the political opposition in Taiwan, especially those forces seeking Taiwanese independence and domestic reform.

Dr. Chang is well qualified to speak on Taiwan's future. He is a member of the Taiwan Parliament and currently serves as Co-Chair of its Foreign Relations Committee. As Director of the DPP Mission in Taiwan, he is the leading spokesperson for the opposition party on foreign policy issues. He also serves as the President of the Steering Committee of the Unrepresented Nations and Peoples Organization (UNPO), an international human rights organization. Chang has previously acted as a consultant for the U.S. Department of State, Voice of America, and the RAND Corporation.

In addition to his political credentials, Chang has authored numerous books and scholarly articles on China, Taiwan, and their relations with each other and the United States. His latest book, If China Crosses the Taiwan Strait: The International Response (1993), addresses the thorny question of likely American responses to Chinese military actions against Taiwan. As an academic in the United States, he has been greatly involved in the study of Asia. He has been President of the Mid-Atlantic Association for Asian Studies and Chairman of the Taiwan Studies group of the Association for Asian Studies. In 1992 the Asian Pacific American Heritage Council recognized his contributions by naming him the Outstanding Asian Pacific American.

An alumnus of National Taiwan University, Chang received an M.A. from the University of Washington and a Ph.D. from Columbia University. The Keck Center for International and Strategic Studies is sponsoring tonight's distinguished guest.