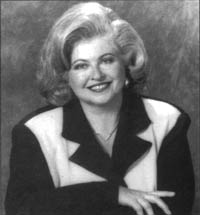 Practicing Leadership
SARAH WEDDINGTON
THURSDAY, SEPTEMBER 21, 1995
At the age of 27 Sarah Weddington successfully argued the landmark Roe v. Wade before the Supreme Court. Although she is best known for her work in that case, Weddington has consistently challenged the political status quo on several fronts. She attributes these political and legal accomplishments to her leadership skills, and she now encourages students-as "leaders-in-training"-to work toward making an impact.

Before the Roe v. Wade decision in 1973, Weddington was already the first woman elected from her district to the Texas House of Representatives. Her three terms as a legislator are marked by her fight for gender equality and reproductive rights. She was a key player in reforming rape statutes, preventing the passage of antiabortion legislation, and changing child custody laws to provide men and women with equal consideration.

Weddington served as an assistant to President Jimmy Carter from 1978 to 1981, working on the selection of women to the federal judiciary and on programs to encourage the equal treatment of women in the military and in securing business loans. Today, she maintains a private practice and is an adjunct associate professor at the University of Texas at Austin, teaching courses in the Government and American Studies departments.

For her contributions to the women's rights movement, Weddington has received numerous accolades. Time magazine recognized her as one of its Young American Leaders. The National Council of Jewish Women presented her the Woman Who Dares Award in 1993 and the Texas Women's Political Caucus established the Sarah Weddington Award in 1994 to recognize leaders in women's choice issues.

The Atheneaum and the Kravis Leadership Institute are pleased to sponsor Sarah Weddington's return visit to CMC.