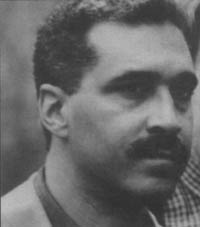 Black Writers in America: James Baldwin
SHELBY STEELE P'96
MONDAY, OCTOBER 2, 1995
The Gould Center for Humanistic Studies proudly joins the Athenaeum and CMC in welcoming Shelby Steele back to Claremont. Well known to Claremont audiences, Steele, who in 1990 won the National Book Critics' Circle award for The Content of Our Character: A New Vision of Race in America (1990), will engage his own work with that of the late novelist and social critic James Baldwin.

Baldwin, who leapt onto the American literary scene with his first novel, Go Tell It On the Mountain (1953), captured further critical attention with a highly polemical essay entitled "Everybody's Favorite Protest Novel" (1949), in which he attacked the use of the novel as a form of social protest. Steele will locate his own and other writers' work within the tradition of social commentary in American literature and examine how writers' approaches to political action have met, refuted, or challenged those dicta that Baldwin articulated in his essay.

Steele has received wide acclaim for his ability to discuss broad social and moral issues with the sensibility of a novelist. Much in demand for the force and eloquence of his commentary, he has appeared on such television programs as 60 Minutes and The MacNeil-Lehrer News Hour. George Will has written that Steele's The Content of Our Character is the most important writing about race since Martin Luther King's Letters from Birmingham Jail (1963).

Steele is the Gould Center's special program director for the series, "Black Writers in America."