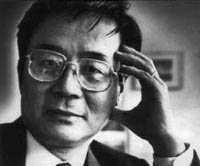 The Myths and Realities of Human Rights
HARRY WU
WEDNESDAY, OCTOBER 4, 1995
For 66 days in the summer of 1995, U.S. relations with China were not centered on trade, regional security, or the future of Taiwan. They were almost singularly driven by efforts to release human rights activist Harry Wu. A renowned critic of China's human rights policies, Wu intended to document what he has termed that nation's "dirty secret," the prison system's forced labor camps or laogai. Wu's arrest was an international incident, but his effort to expose the myths and realities of China's human rights violations is a personal crusade.

When Wu attempted to enter China through a remote border point in Kazakhstan on June 19, he was arrested by Chinese authorities on espionage charges. He was subsequently imprisoned for over two months, only to be convicted in a four-hour trial and deported from the country with a warning that if he were to return, he would serve a 15-year sentence. In spite of this threat, Wu refuses to give up his work: "I cannot turn my back on my former inmates or my suffering country. I won't give up. No way."

Wu's activist history certainly supports his assertion. Since he arrived in the United States in 1985, he has returned to China three times, not only to videotape the conditions of labor-reform camps but to confirm allegations that prison-made products were being exported to the U.S. and that the organs of executed criminals were sold to transplant recipients.

The intense commitment that Wu has to his campaign is rooted in his own history. The Chinese government identified Wu as a counterrevolutionary and arrested him at the age of 23 for criticizing the Soviet Union's 1956 invasion of Hungary. He consequently spent the next 19 years of his life in camps that emphasized "reform through labor."

A research fellow at Stanford University's Hoover Institution, Wu founded the Laogai Research Foundation to expose the human rights violations of China's prison camp system. He also has chronicled his experiences in a book co-written by Carolyn Wakeman, Bitter Winds: A Memoir of My Years in China's Gulag (1993). Most recently, Wu was nominated for the 1996 Nobel Peace Prize by Congressman Pete Stark of California.

Harry Wu's appearance at the Athenaeum is sponsored by the Keck Center for International and Strategic Studies and the Office of the Dean of the Faculty at CMC.

Dinner reservations are available to Claremont McKenna College persons only. The 6:45 p.m. talk is open to all.