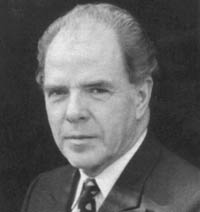 Readings from "The Flaming Corsage"
WILLIAM KENNEDY
TUESDAY, OCTOBER 10, 1995 12:15 p.m.
In conjunction with the Gould Center for Humanistic Studies, the Athenaeum is proud to welcome William Kennedy, Pulitzer Prize-winning author of Ironweed (1983), to Claremont to read from his just-finished novel, The Flaming Corsage (1996). Kennedy is famous for his Albany cycle, which includes, in addition to Ironweed, the novels Billy Phelan's Greatest Game (1978), Legs (1975), and Very Old Bones (1992). His latest work returns to the scene of Billy Phelan's Greatest Game and deals with the journalist Martin Daugherty and his wife Katrina, whom readers of Very Old Bones will remember as being very much involved in Fran Phelan's fortunes.

In addition to his work as a novelist, Kennedy is a wide-ranging and acute essayist and critic. His random pieces have recently been brought together in the collection, Riding the Yellow Trolley Car (1993). Among his many other notable credits is the screenplay (with Godfather (1972) author Mario Puzo) of Cotton Club (1984).
Mr. Kennedy's reading will begin at 12:15 p.m.