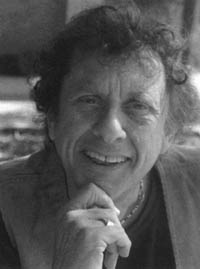 Poet Reads From His Work
STEVE KOWIT
WEDNESDAY, OCTOBER 11, 1995
Steve Kowit is a man as original as his poetry. He sharpened his craft, and modeled his own poetry, after the tradition of the Beat poets of the 1950s and 1960s. His literary education in coffeehouses in New York's Lower East Side and San Francisco's Haight Ashbury district contributes to the humanity and accessibility of Kowit's poetry.

Kowit is the editor of The Maverick Poets: An Anthology (1988), an anthology of contemporary poetry. He has published five volumes of his own poetry, including Lurid Confessions (1983) and Climbing the Walls (1976). In the Palm of Your Hand: A Poet's Portable Workshop (1995), his latest book, is a guide that encourages poets to transform their dreams and secrets into poetry. He believes that poetry should be "hot and passionate, from the heart, communicated with craft," and not cold or distant.

The recipient of numerous awards, including a grant from the National Endowment for the Arts Literature Program, Kowit teaches poetry at Southwestern College. He has translated a volume of political poetry by Latino poet Pablo Neruda, and he has recreated traditional Indian love poetry. Kowit is also an outspoken advocate in the animal rights movement. In addition to his poetic endeavors, Kowit has published two crossword puzzle dictionaries (1977) and a book on low-cholesterol cooking (1974).

Please join us as Steve Kowit reads from his own poetry.