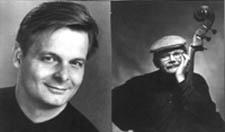 Bach, Barrios, Bebop, and Beyond
KENTON YOUNGSTROM, guitar
PUTTER SMITH, bass
THURSDAY, OCTOBER 12, 1995,
Kenton Youngstrom is one of America's most dynamic and gifted musicians. Youngstrom earned his B.A. and M.A. degrees from the University of Southern California, where he studied guitar with James Smith and Lee Ritenour. He also participated in master classes with artists such as Pepe and Angel Romero, Gabor Rejto, Manuel Barrueco, and Michael Lorimer.

In this multifaceted performance, he will perform pieces ranging from classical to his own unique blend of jazz. The first half of the program will include classical guitar from Bach music from the late-romantic Argentinean composer Barrios.

In the second half of the program, Youngstrom will be joined by bassist Putter Smith, who has played with Thelonious Monk, Duke Ellington, Art Blakey, and Johnny Mathis. Smith's professional career spans four decades and includes eight jazz recordings.

Youngstrom and Smith will play a piece of music that is more spontaneous than traditional jazz. The piece, entitled "Dialogue," is completely interactive and lacks traditional set chord progression, key, or meter. In addition, Youngstrom will be performing an original jazz composition.

Among Youngstrom's numerous awards and honors, he has served as musical director of Ballet Folklorica Mexicapan and cofounded Mariachi Mexicapana. He has performed with the Redlands Symphony, Downey Symphony, and the Glendale and Pasadena Chamber Orchestras.

This concert is made possible through a generous gift from Ed and Dorothy Stotsenberg, friends of Claremont McKenna College and sponsors of the Stotsenberg Chamber Music Series.