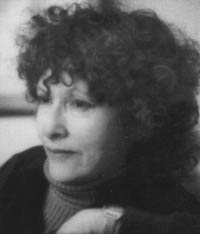 Poet Reads from Her Work
DENISE LEVERTOV
MONDAY, OCTOBER 30, 1995
Poet, editor, and translator Denise Levertov is heralded as the leader of the "new avant-garde" in the world of poetry. A key figure in the literary movement known as the New American Poetry, Levertov is undeniably among the most skilled and gifted contemporary poets.

Levertov's poetry uniquely captures the essence of genuine human experience. Her poetry, although influenced by the poems of William Carlos Williams, is severely disciplined. Like few other poets, she adeptly combines keen understanding of human experience and sophisticated diction to create vivid and memorable poetry. An integral part of her poetry is religion; she says, "I believe poets are instruments on which the power of poetry plays." She believes that poets are not passive observers of life, but also the makers of life, which stems from shared experiences.

Denise Levertov's life is as dynamic as her poetry. After World War II, she worked in an antique store and bookstore in London, England. She later taught English in Holland, and worked as a nurse in Paris. She hitchhiked her way through France and came to the United States in 1948. She has taught at Drew University, Vassar College, and was writer-in-residence at City College of New York. Among her many honors include the Longview Award, Guggenheim Fellowship, Inez Boulton Prize, and a grant from the National Institute of Arts and Letters.

Please join us as Denise Levertov reads from her poetry.