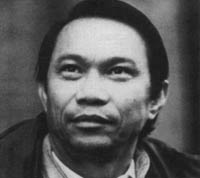 Genocide in Cambodia: Can It Happen Again?
DITH PRAN
TUESDAY, OCTOBER 31, 1995
Dith Pran worked in Cambodia's tourism industry, and life was peaceful until the early 70s when the war in Vietnam began to devastate his homeland. When civil war ravaged Cambodia, Pran, along with New York Times correspondent Sydney Schanberg, decided to stay and document the fall of Phnom Penh to the communist Khmer Rouge. Soon afterwards, Pran and other journalists were arrested by the Khmer Rouge and sentenced to execution. The others were eventually released; however, Pran was exiled to a forced labor camp for four years. He endured starvation, humiliation, sixteen-hour workdays, separation from friends and family, and a total destruction of his former life. Pran lost over fifty family members to the Cambodian holocaust. Only he and his sister survived.

Dith Pran's life in war-torn Cambodia was chillingly portrayed in the award-winning documentary, The Killing Fields (1984). During Pran's exile, Schanberg received a Pulitzer Prize for his coverage of Cambodia, and he accepted the award on behalf of Pran. In October of 1979 Dith Pran escaped to Thailand and, eventually, to freedom.

In 1979 Pran came to the United States and has been with The New York Times as a photojournalist since his arrival. He is a member of the Asian-American Journalist Association, and was also appointed Goodwill Ambassador by the United Nations High Commissioner for Refugees. He has testified numerous times before the subcommittee on East Asian Pacific Affairs of the Senate and House of Representatives regarding Cambodian politics and culture.

Dith Pran has dedicated his life to speaking for those who did not survive the Cambodian civil war and for the many who still suffer. He strives to educate all citizens about the horrors associated with holocausts and awaken them to the universal implications of all tragedies. The John Brown Cook Association is sponsoring Mr. Pran's appearance at the Athenaeum.