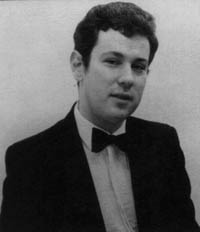 The Virtuoso Pianist
THOMAS OTTEN
WEDNESDAY, NOVEMBER 1, 1995
Thomas Otten is a musician of international fame and prestige. Born of German-American parents, Otten began his piano studies at the age of ten in Munich, Germany. This dynamic performer has performed both in the United States and abroad and is recognized for his incredible range and versatility.

Mr. Otten's skill has earned him accolades around the world. His honors include first prize in the International Masters Piano Competition, the 1993 Palm Beach Invitational International Piano Competition, and the National Federation of Music Clubs Young Artist Competition. In January of 1994 he was presented at the Lincoln Center's Alice Tully Hall, and he was later selected for the prestigious California Arts Council Touring Artists Roster. Otten received two graduate degrees in music from the University of Southern California.

Thomas Otten's program will include the works of Haydn, Ravel, Chopin, and Stravinsky. Please join us as this talented pianist performs at the Athenaeum.

Otten's performance is part of the Stotsenberg Chamber Music Series. His performance is made possible through a generous gift by Ed and Dorothy Stotsenberg, friends of Claremont McKenna College.

The piano for this evening's performance is provided courtesy of the Yamaha Corporation of America.