Athenaeum Location
Print Newsletter
November 6, 1995
Vol. 11, No. 04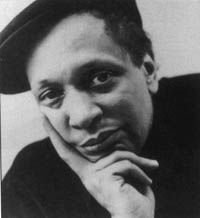 Black Writers in America: Black Male Heroes
WALTER MOSLEY
MONDAY, NOVEMBER 6, 1995
Walter Mosley's Easy Rawlins mysteries, which include Devil in a Blue Dress: An Easy Rawlins Mystery (1990), A Red Death (1991), White Butterfly (1992), and Black Betty: An Easy Rawkins Mystery (1994), challenge their readers in ways other than the conventional "whodunit" and reward them with more than the usual detective-protagonist's rounding up the suspects, sorting through the alibis, and catching out the culprit. What sets Mosley apart from other writers of detective fiction are his distinctive wit, his eye for-and depiction of-detail, and his sensitivity to those social forces and personalities that make up the South-Central Los Angeles of the series' reluctant, existentialist detective-hero. Moreover, the social realism that marks the series has compelled many among Mosley's legion of admirers-including First Fan Bill Clinton-to reread the novels for clues to what may have precipitated the Los Angeles riots of 1992.

While Mosley's most recent book, R. L.'s Dream (1995), is a departure from the South-Central series, Easy Rawlins devotees can look forward to at least two more installments in this popular and critically acclaimed series. As millions of filmgoers flock to the recently released version of Devil in a Blue Dress (1995) from TriStar Pictures (directed by Carl Franklin with Denzel Washington as Easy Rawlins), Mosley is already at work on A Little Yellow Dog forthcoming (1996) and Bad Boy Bobby Brown.

The Gould Center for Humanistic Studies proudly joins the Athenaeum in welcoming Walter Mosley to CMC, where he will speak on "Black Male Heroes."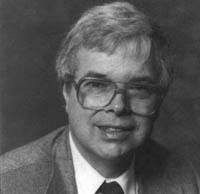 The Future of the Research University
KENNETH WILSON
TUESDAY, NOVEMBER 7, 1995
Kenneth Wilson was born in 1936 in Waltham, Massachusetts, the son of a distinguished chemist who taught at Harvard University. Wilson was an undergraduate at Harvard College, and obtained his doctorate in 1961 at the California Institute of Technology, where he was a student of Murray Gell-Mann. He was then a junior fellow in Harvard's Society of Fellows, and joined Cornell University's department of physics in 1963. He held a professorship there beginning in 1970. Wilson became the director of the Center for Theory and Simulation in Science and Engineering in 1985. In 1988 he moved to The Ohio State University's department of physics. He is now heavily engaged in educational reform as a co-principal investigator on Ohio's Project Discovery.

The ultimate recognition of his achievements in physics was the Nobel Prize in physics, awarded for discoveries he made in understanding how bulk matter undergoes "phase transition," i.e., sudden and profound structural changes resulting from variations in environmental conditions.

After Kenneth Wilson won the Nobel Prize for solving some of the major problems of modern physics, he took on an even more daunting task: reforming education in America. In his recent book Redesigning Education (1994), Wilson has challenged many of the assumptions about educational reform, arguing against repairing the dilapidated structure of traditional schooling and in favor of a new vision of what it means to educate and be educated in a post-industrial society. Adherence to traditional icons of scholastic excellence will not suffice to enable students to confront the problem-solving demanded in the information age. Wilson has been praised widely for his bold and innovative proposals based on his insights into the process of scientific achievement.

Wilson's background prior to educational reform ranges from elementary particle theory and condensed matter physics (critical phenomena and the Kondo problem) to quantum chemistry and computer science, where he is coinventor of a new programming style called Gibbs, still under development.

Wilson's style of lecturing has become widely known for being as provocative as his ideas. Please join us for what promises to be a challenging presentation on the future of higher education and the research university.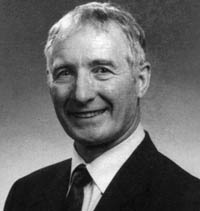 In Commemoration of Veterans Day
DAVID HACKWORTH
THURSDAY, NOVEMBER 9, 1995
In the spirit of Veterans Day, the Marian Miner Cook Athenaeum is pleased to welcome retired U.S. Army Colonel David Hackworth.
Colonel Hackworth is America's most decorated living veteran. He enlisted in the Merchant Marines at the age of 14, the U.S. Army at 15, and he became the youngest captain during the Korean War. Eight of his 25 years of service were in combat. His career has spanned ten wars and conflicts, including World War II, Desert Storm, and most recently Yugoslavia and Somalia. He has earned eight Purple Hearts and over 100 valor awards.

Despite his many honors, his career has not been void of controversy. In 1971 he was the only senior officer to publicly speak out against the American presence in Vietnam, saying "This is a bad war ... we need to get out ... it can't be won." In the same interview he accurately predicted that the North Vietnamese flag would fly over Saigon in four years.

His experiences and observations of wars all over the globe give him an unusual perspective as a journalist. He is coauthor of the international best seller About Face: The Odyssey of an American Warrior (1989) and Brave Men: Odyssey of an Infantryman (1993). He also coauthored the Vietnam Primer (1966), the fighting man's bible for guerrilla warfare in Vietnam. He is currently a contributing editor for defense at Newsweek and a syndicated columnist. He continues to be a strong advocate of major military reform, and he believes that military solutions are becoming increasingly obsolete.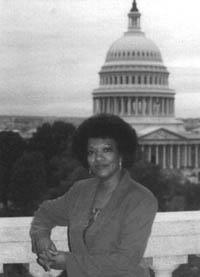 Black Writers in America: Melvin Tolson
RITA DOVE
MONDAY, NOVEMBER 13, 1995
Anyone who attempts to list the many accolades, honors, and achievements of Rita Dove had best come to the task prepared with a large store of superlatives. When, in May 1993, Dove was appointed United States poet laureate and consultant in poetry at the Library of Congress, she became the youngest person and the first African American to receive this highest official honor in American letters. By that time, this summa cum laude graduate of Miami University of Ohio had already won wide acclaim for her poetry collections, The Yellow House on the Corner (1980), Museum (1983), and Thomas and Beulah (1986), the last of which earned her the 1987 Pulitzer Prize, the first time since 1950 (when Gwendolyn Brooks was so honored) that this prestigious award went to a black poet.

Dove has also essayed with remarkable success the genres of short story (with the collection Fifth Sunday (1983)), novel (with Through the Ivory Gate (1992)), and verse drama (with The Darker Face of Earth (1994)). Her latest poetry collection, Mother Love, appeared in the spring of 1995, at the same time the Library of Congress issued The Poet's World (1995), a collection of her laureate lectures.

In her Athenaeum lecture Dove will restore to its rightful place in the canon of 20th-century American literature the verse of the unjustly neglected modernist poet, Melvin Tolson. Tolson's Harlem Gallery: Book I, The Curator (1965) will be the centerpiece of Dove's overview and appreciation of the poet whom such literary luminaries as Allen Tate, William Carlos William, Theodore Roethke, and Robert Frost have tried to bring to the general literary consciousness.

The Gould Center for Humanistic Studies takes enormous pride in welcoming Rita Dove to CMC. Her presentation will be the finale in the Athenaeum's fall semester series, "Black Writers in America."

MUSICAL TEA
MONDAY, NOVEMBER 13, 1995
A special treat is in store for everyone who attends this afternoon tea. Students and staff from the CMC/HMC/PIT/SCR joint music program will perform selected movements from the Horn Quintet in E-Flat, K. 407, by W. A. Mozart, and the Piano Quintet in E-Flat, Op. 44, by R. Schumann.

Tea begins at 3:00 p.m. The musicians will play at 3:45 p.m.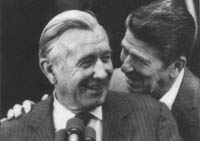 For the Record: From Wall Street to Washington
DONALD REGAN
TUESDAY, NOVEMBER 14, 1995 12:15 p.m.
Few executives ever climb the ladder to one of the top posts on Wall Street. Fewer still move on to the inner workings of Washington and the White House itself. Donald Regan's impressive professional careers extend from the battlefields of the South Pacific during World War II, to being chairman of a major Wall Street financial house, to the corridors of the West Wing of the White House during the Reagan years. In his visit to Claremont, sponsored by the Claremont McKenna College Republicans and the Henry R. Salvatori Institute, Regan will focus on his experiences both in the private and public sectors, and discuss his involvement in and perspective on important events that took place during his career.

A 1940 graduate from Harvard, Regan entered the Marine Corps and served in Iceland as well as in the South Pacific during World War II, from Guadalcanal to Okinawa. In 1946 Regan joined the Wall Street firm Merrill Lynch, where he would spend thirty-five years, becoming Chairman of the Board and Chief Executive Office in 1971. In 1981, at President Ronald Reagan's request, he joined the new administration as Secretary of the Treasury. Following Reagan's reelection, Regan moved next door on Pennsylvania Avenue and was appointed Chief of Staff to the President in 1985, a post which he held during a sometimes tumultuous two years.

Donald Regan was a contrarian, both on Wall Street and in Washington. He offers a personal perspective on both worlds. Please join us to welcome this accomplished and distinguished guest to our community.

Lunch is served at 11:45 a.m. Mr. Regan speaks at 12:15 p.m.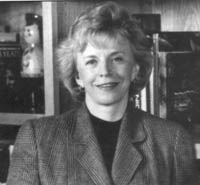 Telling the Truth: Why Our Schools, Our Culture, and Our Country Have Stopped Making Sense- and What We Can Do about It
LYNNE CHENEY
TUESDAY, NOVEMBER 14, 1995
According to Lynne V. Cheney, American culture and society are under the attack of a relativism that seeks to undermine the importance of truth. A former head of the National Endowment for the Humanities (NEH), she argues that contemporary movements such as multiculturalism, radical feminism, political correctness, and critical race theory have adversely affected the sociopolitical pillars of the United States. Cheney contends that academics, writers, and journalists have created a moral and intellectual crisis by subverting truth for the benefit of "politically useful views."

In her latest book, Telling the Truth: Why Our Schools, Our Culture, and Our Country Have Stopped Making Sense-and What We Can Do About It (1995), Cheney illustrates how the "war on objective truth" is being waged on several fronts: schools, workplaces, college campuses, and the media. Moreover, Cheney details what she believes to be the complicity of federal and state government agencies in funding this onslaught on truth.

Cheney is currently the W. H. Brady, Jr. Distinguished Fellow at the American Enterprise Institute (AEI)-a nonpartisan research institute focusing on domestic and international issues. She also serves as the chairman of both the Committee to Review National Standards and the National Alumni Forum. A prominent conservative spokesperson, she has written on American education and culture, and her work has been featured in The New York Times, Newsweek, The Wall Street Journal, The Washington Post, and Time. She cohosts CNN's Sunday Crossfire and she has been a guest on The Today Show, This Week with David Brinkley, The MacNeil-Lehrer News Hour, and Firing Line.

A former senior editor at Washingtonian magazine, Cheney holds a Ph.D. in English and has taught at several colleges and universities. She has authored two books and coauthored two others, including Kings of the Hill: How Nine Powerful Men Changed the Course of American History forthcoming (1996), a history of leadership in the U.S. House of Representatives, which she wrote with her husband, former Secretary of Defense Richard Cheney.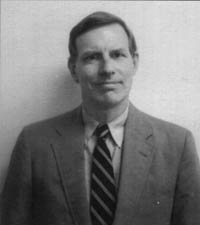 The Confucian Ethic: Truth, Justice, and the Asian Way
T. R. REID
WEDNESDAY, NOVEMBER 15, 1995
As The Washington Post's bureau chief in Tokyo since 1990, T. R. Reid has gone beyond covering the newsmaking events of Japan and East Asia. Reid also writes a syndicated column and offers good-humored commentaries on Japanese life and culture for National Public Radio's Morning Edition. He has not only become one of America's best-known foreign correspondents, but he also has acquired a unique understanding of East Asian society.

Living and working in East Asia, Reid has observed the resurgence of the Confucian ethic in modern Asian society- a trend of which many Americans are unaware. He notes that this new emphasis on Confucian tradition is now accompanied by the strong feeling among many East Asian leaders that their family-centered societies are inherently better than those of the West. Reid, moreover, foresees the dawn of the "Confucian Century" in which Confucian nations will effectively challenge their Western counterparts.

Reid joined the national news staff of The Washington Post in 1977, covering politics, Congress, and three presidential elections. Before assuming the head of the paper's Far East bureau in 1990, Reid had been the Post's Rocky Mountain bureau chief, based in Denver. He also writes a personal computer column- The Reid-Hume Report -with ABC News correspondent Brit Hume; the syndicated column appears weekly in more than 60 newspapers throughout the country.

Since graduating from Princeton University in classics, Reid has had an eclectic career. He has taught Latin and Greek, served as a naval officer, been a university professor in southern Japan, and worked as an attorney after earning his law degree. Reid is the author of three books in English and two in Japanese. Most recently, he collaborated with his wife, Margaret M. McMahon, to produce Ski Japan! The Guide to Japan's World Class Ski Resorts (1994).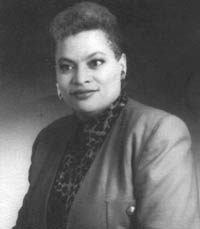 The Battle to Dismantle an Inclusive America
JULIANNE MALVEAUX
THURSDAY, NOVEMBER 16, 1995
Author of Sex, Lies, and Stereotypes: Perspectives of a Mad Economist (1994), Julianne Malveaux is an economist who analyzes the economic costs of social issues and their effect on women and minorities.

Dr. Malveaux is the host of The Julianne Malveaux Show on WPFW Radio. She is a regular contributor to the San Francisco Sun Reporter, Ms., and Black Issues in Higher Learning. She can be seen on television's CNN and Company and the PBS production To the Contrary.

As a scholar, Malveaux investigated the status of black women in the work force at the University of California, Berkeley, in the African American studies department. She is also a community activist. She has served as president of the Black Leadership Forum and as vice-president of the San Francisco NAACP. On the national level, she is president of the Business and Professional Women's Club, as well as a board member of the Center for Policy Alternatives. Malveaux has also worked as a consultant for the Rockefeller Foundation, the Council of Economic Advisors, NOW, and the Legal Defense and Education Fund.

Please join us as Dr. Malveaux shares her personal perspective on race in the workplace.
A Madrigal Feast
The Thirteenth Annual Madrigal Feast will soon be upon us. Two dates are still available: Thursday, November 30 and Tuesday, December 5.