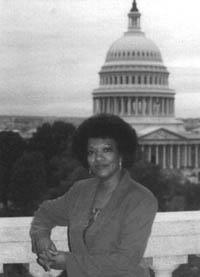 Black Writers in America: Melvin Tolson
RITA DOVE
MONDAY, NOVEMBER 13, 1995
Anyone who attempts to list the many accolades, honors, and achievements of Rita Dove had best come to the task prepared with a large store of superlatives. When, in May 1993, Dove was appointed United States poet laureate and consultant in poetry at the Library of Congress, she became the youngest person and the first African American to receive this highest official honor in American letters. By that time, this summa cum laude graduate of Miami University of Ohio had already won wide acclaim for her poetry collections, The Yellow House on the Corner (1980), Museum (1983), and Thomas and Beulah (1986), the last of which earned her the 1987 Pulitzer Prize, the first time since 1950 (when Gwendolyn Brooks was so honored) that this prestigious award went to a black poet.

Dove has also essayed with remarkable success the genres of short story (with the collection Fifth Sunday (1983)), novel (with Through the Ivory Gate (1992)), and verse drama (with The Darker Face of Earth (1994)). Her latest poetry collection, Mother Love, appeared in the spring of 1995, at the same time the Library of Congress issued The Poet's World (1995), a collection of her laureate lectures.

In her Athenaeum lecture Dove will restore to its rightful place in the canon of 20th-century American literature the verse of the unjustly neglected modernist poet, Melvin Tolson. Tolson's Harlem Gallery: Book I, The Curator (1965) will be the centerpiece of Dove's overview and appreciation of the poet whom such literary luminaries as Allen Tate, William Carlos William, Theodore Roethke, and Robert Frost have tried to bring to the general literary consciousness.

The Gould Center for Humanistic Studies takes enormous pride in welcoming Rita Dove to CMC. Her presentation will be the finale in the Athenaeum's fall semester series, "Black Writers in America."