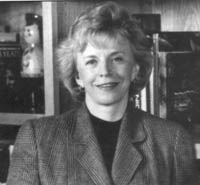 Telling the Truth: Why Our Schools, Our Culture, and Our Country Have Stopped Making Sense- and What We Can Do about It
LYNNE CHENEY
TUESDAY, NOVEMBER 14, 1995
According to Lynne V. Cheney, American culture and society are under the attack of a relativism that seeks to undermine the importance of truth. A former head of the National Endowment for the Humanities (NEH), she argues that contemporary movements such as multiculturalism, radical feminism, political correctness, and critical race theory have adversely affected the sociopolitical pillars of the United States. Cheney contends that academics, writers, and journalists have created a moral and intellectual crisis by subverting truth for the benefit of "politically useful views."

In her latest book, Telling the Truth: Why Our Schools, Our Culture, and Our Country Have Stopped Making Sense-and What We Can Do About It (1995), Cheney illustrates how the "war on objective truth" is being waged on several fronts: schools, workplaces, college campuses, and the media. Moreover, Cheney details what she believes to be the complicity of federal and state government agencies in funding this onslaught on truth.

Cheney is currently the W. H. Brady, Jr. Distinguished Fellow at the American Enterprise Institute (AEI)-a nonpartisan research institute focusing on domestic and international issues. She also serves as the chairman of both the Committee to Review National Standards and the National Alumni Forum. A prominent conservative spokesperson, she has written on American education and culture, and her work has been featured in The New York Times, Newsweek, The Wall Street Journal, The Washington Post, and Time. She cohosts CNN's Sunday Crossfire and she has been a guest on The Today Show, This Week with David Brinkley, The MacNeil-Lehrer News Hour, and Firing Line.

A former senior editor at Washingtonian magazine, Cheney holds a Ph.D. in English and has taught at several colleges and universities. She has authored two books and coauthored two others, including Kings of the Hill: How Nine Powerful Men Changed the Course of American History forthcoming (1996), a history of leadership in the U.S. House of Representatives, which she wrote with her husband, former Secretary of Defense Richard Cheney.