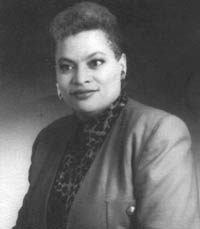 The Battle to Dismantle an Inclusive America
JULIANNE MALVEAUX
THURSDAY, NOVEMBER 16, 1995
Author of Sex, Lies, and Stereotypes: Perspectives of a Mad Economist (1994), Julianne Malveaux is an economist who analyzes the economic costs of social issues and their effect on women and minorities.

Dr. Malveaux is the host of The Julianne Malveaux Show on WPFW Radio. She is a regular contributor to the San Francisco Sun Reporter, Ms., and Black Issues in Higher Learning. She can be seen on television's CNN and Company and the PBS production To the Contrary.

As a scholar, Malveaux investigated the status of black women in the work force at the University of California, Berkeley, in the African American studies department. She is also a community activist. She has served as president of the Black Leadership Forum and as vice-president of the San Francisco NAACP. On the national level, she is president of the Business and Professional Women's Club, as well as a board member of the Center for Policy Alternatives. Malveaux has also worked as a consultant for the Rockefeller Foundation, the Council of Economic Advisors, NOW, and the Legal Defense and Education Fund.

Please join us as Dr. Malveaux shares her personal perspective on race in the workplace.