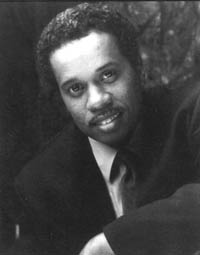 Martin Luther King Jr. Commemoration
JUAN WILLIAMS
THURSDAY, JANUARY 18, 1996
As one of America's best-known journalists, Juan Williams has established a reputation for savvy political analysis that is unencumbered by ideological allegiance or political correctness. His approach to the complex issues of politics, race relations, and civil rights is considered to be both astute and provocative. Williams is also admired for his ability to draw out the essential elements of these problems and to divorce them from the rhetoric that engulfs the real issues. According to Williams, "Too many people, both black and white, are happy with the idea that civil rights is history; it means they don't have to face what remains to be done."

A dynamic writer, Williams wrote Eyes on the Prize: America Civil Rights Years, 1954-1965 (1987), the companion book to the award-winning series by the same name. The work is an oral history of the civil rights movement recounting the national events and experiences that altered American history. Moreover, Eyes on the Prize dramatizes the lives of people who participated in revolutionary actions such as the Montgomery bus boycott, the freedom rides, and the great march from Selma to Montgomery.

The New York Times Book Review judged this Williams book to be a "fascinating, fast-moving overview. Even those who participated will find in this book reminders of the civil rights movement's incredible human and political complexity of the stops and starts that belie the neat continuum that hindsight can sometimes create."

For the past 16 years, Williams has been associated with The Washington Post as an editorial writer, columnist, and White House correspondent. He has also authored articles for a number of magazines and journals, including Fortune, The New Republic, The Atlantic Monthly, Harper's, Ebony, London Sunday Times, and The New Yorker.

Please join the Athenaeum and the Office of Black Student Affairs in commemorating Martin Luther King Jr. as Juan Williams presents his dynamic views regarding the continuing legacy of the civil rights movement and one of its greatest leaders.

The six-part series Eyes on the Prize will be shown continuously beginning at 10:00 a.m. in the Freeberg Lounge at the MMC Athenaeum.