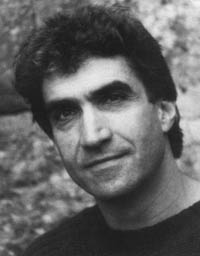 Reading From His Poetry
ROBERT PINSKY
THURSDAY, JANUARY 25, 1996
Robert Pinsky is that rare combination of a brilliant poet, translator, and critic. The Want Bone (1990), his fourth and most recent volume of poetry, explores the intersecting and conflicting mysteries of Christianity and Judaism. Fine-hammered, cool, and penetrating, Pinsky's poetry has always been comfortable in making abstraction a vibrant part of his art as we see through to the emotional marrow of ordinary existence. In addition to his other books of poetry, An Explanation of America (Princeton, 1979), Sadness and Happiness (Princeton, 1975), and History Of My Heart (1984), Pinsky's critical works, Poetry and the World (1988) and The Situation of Poetry: Contemporary Poetry and Its Traditions (1976), have helped define the traditions and complexities of modern poetry, particularly in the negotiation between specific image and abstraction.

His translation of Dante's Inferno (1307) has been hailed as one of the greatest renderings of that poem, combining the almost untranslatable force of its terza rima with luminous, idiomatic English lines. The translation was awarded the 1995 Los Angeles Times Book Award for poetry. Pinsky has also collaborated with Czeslaw Milosz in the translation of some of the 1980 Nobel Laureate's most important poems. A former Stegner Fellow at Stanford University, Pinsky has taught at Berkeley, Wellesley, and now at Boston University.

Please join us to hear one of America's most important literary voices.